A native of Iowa in the USA, Tom Billups represented the Old Blues of California, based in Berkeley, before moving over to the UK to further his rugby career. Tom took up hooking duties at NEC Harlequins in 1996, before joining with Pontypridd in in the summer of '98. Tom contributed to the squad not only as a player but in making use of his skills as a professional fitness coach.
Tom also played for the London Harlequins, and in the meantime amassed 44 senior caps for the USA Eagles, featuring in the 1999 World Cup tournament held in Wales.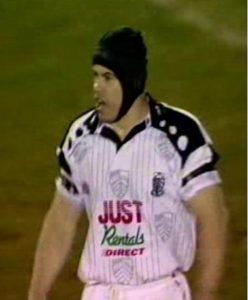 After retiring as a player, Tom continued to serve his country, becoming interim National Team Head Coach of the USA Eagles in December 2001 giving South Africa a real fright, before taking up the post full-time in January 2002.
After retiring from his International Coaching status in early 2006, Tom became a full-time member of the coaching staff for the national collegiate champions, Golden Bears at the University of California, Berkeley.
Tom Billups: Hooker 18 appearances 1998-1999