When the landslide engulfed the Pantglas Junior School in Aberfan on 21 October 1966, killing 116 children and 28 adults, the deputy headmaster was found sheltering behind a blackboard clutching five children in his arms as if he had been protecting them. He was David 'Dai' Beynon, who was 47 years of age at the time. However, when he was a young man he was one of the stars of the Pontypridd rugby team when the game resumed in the valleys of South Wales after the second world war.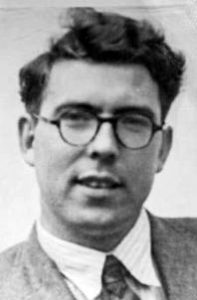 Dai was a back row forward from Merthyr, and had just started as a schoolteacher in his home town. A player with pace and good hands, when he was a student at Bangor University he had played in goal for Bangor City. Dai played in the first Welsh trial at Ynysyngharad Park in the 1946-47 season. He did well enough to win a place in the second trial at Newport, but was injured in the first half. He recovered in time to be selected as a reserve for the final trial at Cardiff Arms Park, but didn't make the side.
He then figured in the first trial at Bridgend in the following season, and might have got that cap if injuries hadn't caught up with him again. His absence from the Pontypridd side started rumours that he had turned professional, but he decided instead to stay with his teaching job at Merthyr. In the 1947-48 season Dai was suffering from a recurring injury which restricted his appearances for the club, and this would be his last season in first class rugby, although he continued to play for a time for his home club at Merthyr.
Dai Beynon will be remembered as a good rugby player and a dedicated teacher, but sadly also as a victim of that terrible day in Aberfan.
Dai Beynon: Flanker 22 appearances 1946-1947