Adrian Barwood, known to his team mates as "Sniffer", was a regular on the wing for Pontypridd in the 'golden' period between 1975-1978, joining the club from Abertillery. His brother David had joined Pontypridd two years earlier and played 27 games as a centre for the club between 1973 and 1974. However, David would be the first to declare that his try scoring abilities could not match those of his brother. His two tries paled by comparison with 85 touchdowns in Adrian's 107 appearances for the club.
Adrian joined the club in the 1975-76 Centenary season and played in 42 of the 56 games played by Ponty that season. His partner on the wing for 39 of those games was Brian Juliff, and they each scored 38 tries that season, a new club record. Adrian got four against Broughton Park that season, and five against Widnes. He was quick and tricky, and a superb support runner, something of a contrast to big, bustling Brian. Brian left Pontypridd in 1978 to have a very successful career in Rugby League and Adrian followed him a year later.
Adrian was a Welsh trialist in 1976, and in the 1977-78 season scored 35 tries in 35 games for the club, getting six in one game against Penarth. His last game for the club came on 5th September 1978, against Cardiff HSOB, and then 'went north' to play for Wakefield Trinity. He made his debut against Castleford that month, appearing as A.N. Other for some reason.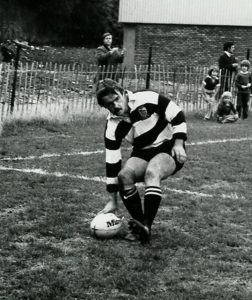 Adrian Barwood: Winger 107 appearances 1975-1978