A native of the capital city of Wales, Gareth played for Llandaf Youth before joining up with the Cardiff Senior squad in 1992 where he stayed for just one season.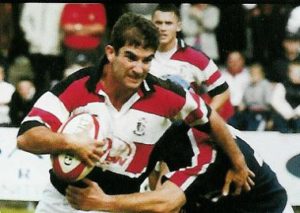 Moving on to study at Swansea University, Gareth linked up with the Llanelli development squad from where he gained representative honours with the Welsh students and at u21. As his studies progressed, Gareth moved on to Oxford University where he gained his "Blue" before returning to his homeclub of Cardiff for a further two seasons.
In 1995 he was on the road again this time joining up with Aberavon and the following year with Bristol in the English premier league. His rival at the Memorial Ground was Argentine International, Augustin Pichot, regarded by many as the finest scrum half in the world.
Despite pushing hard for a first team place after four seasons Gareth decided to move back to his homeland with Pontypridd as his destination.
He was a regular in the Wales Sevens squad, and proved his versatility with some appearances on the wing for Ponty.
Gareth departed Sardis Road in 2003 to join the Gwent Dragons regional team.
Gareth Baber: Scrum Half 43 appearances 2001-2003