Return to News
GIVE BLOOD / RHOWCH WAED
Wed 26th January
Pontypridd RFC is proud to support the Welsh Blood Service and encourages all involved with the club who are able to do so, to become donors.
Giving blood is a practical and valuable way to support our National Health Service during these difficult times. A number of donation clinics are being set up in the Pontypridd area over the coming months.
In under 1⃣ hour, you could save up to 3⃣ lives by giving blood with @WelshBlood! ❤❤
📅 Make an appointment today: 🔗WBS Booking (wales.nhs.uk)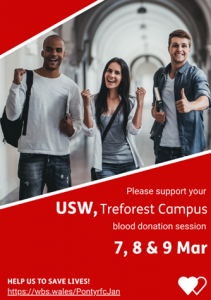 Mae CR Pontypridd yn falch i gefnogi Gwasanaeth Gwaed Cymru ac yn annog pawb sy'n ymwneud a'r clwb ac sy'n gymwys i wneud hynny, i roi gwaed.
Mae rhoi gwaed yn ffordd ymarferol a gwerthfawr o gefnogi ein Gwasanaeth Iechyd Cenedlaethol yn ystod y cyfnod anodd sydd ohoni. Mae nifer o glinigau rhoi gwaed yn cael eu trefnu yn ardal Pontypridd dros y misoedd i ddod.
llai nag 1⃣ awr, gallech achub hyd at 3⃣  bywyd trwy rhoi gwaed gyda @Gwaedcymru! ❤❤
📅 Gwnewch apwyntiad heddiw: 🔗WBS Booking (wales.nhs.uk)