Return to News
First Pontypridd Youth open training session a huge success
Mon 27th June
Last Wednesday 22nd June Pontypridd Youth held their first open training session and it was a huge success. There was a good mix and combination of players from both Ponty U16's and players from the surrounding area.
The coaches and management were very happy, not only to get a chance to work closer with the talented group of players present, but to also get the chance to beam out the club's development structure to both the boys and parents.
The next Pontypridd Youth open training session is next Wednesday 6th July 7:00-8:30pm at Sardis Road.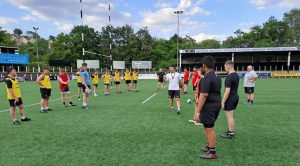 But prior to next Wednesday's session, this Saturday 2nd July Parti Ponty is taking place in the town at Ynysangharad Park. Pontypridd Youth will have their own booth at the event and will be running some drills between 12:00-3:00pm – it would be great to see supporters there.
Pre-season Training for Pontypridd Youth will then look to commence on Tuesday 11th July 2022.
Should you require any further information regarding the open training sessions or joining Pontypridd Youth, please contact Mark Thomas on 07969423283 or at marktthomas10@aol.com