Return to News
Coach travel to Merthyr
Mon 12th February
Pontypridd continue a run of away Premiership games with a trip to Merthyr on Saturday 17th February. The Supporters' Club will as ever be providing coach travel to the venue.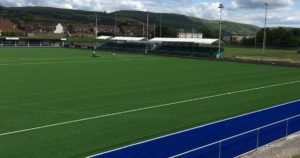 Having slipped to fourth position in the table, Ponty next face the team at the top, reigning champions Merthyr. The match at Y Wern (pictured)  kicks off at 2:30pm.
Coaches will depart Sardis Road at 1:30pm and return straight after the final whistle.
Parking in the housing estate around Y Wern is notoriously difficult. Travelling on the Supporters Club offers a convenient and cost effective way to follow Ponty on the road. To book a seat on the bus to Merthyr please contact Phil Lycett on: 01443 662561.