Return to News
AGM 2018 report
Thu 2nd August
The Annual General Meeting of Ponty Rugby Ltd was held in the Sardis Road Clubhouse on Thursday evening 2nd August 2018, chaired by Perry Stephens.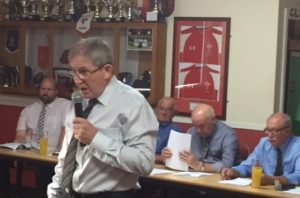 Chief Executive Officer Steve Reardon (pictured), in his sixteenth year in the role, gave a report which commended the squad and management for their third place finish in the Premiership table the previous season.
Special thanks were extended to Carol Waughington who had recently stood down as a company director, and had served in the Club Shop with distinction for many years. It was disclosed that Peter Howells was standing down as Director of Finance but would retain his position on the board of directors.
In closing his report Steve Reardon looked forward to the coming season, with the added jeopardy of relegation from the Premiership, but confident that Pontypridd would be battling for a place in the top half of the table.
Peter Howells gave his final report as Director of Finance, analysing the club accounts, which showed a deficit year. Problems encountered included a shambolic fixture itinerary with a lack of home games for long periods and adverse publicity about the Sardis Road pitch. Plans were in place, such as an electronic lottery, club dinners, golf days and the outsourcing of the club shop, to improve income streams.
Thanks were given to club sponsors and the volunteers who work so hard to maintain an ageing stadium. A special vote of thanks was given to Marian Jarvis who was leaving her role as accountant and club administrator, which she had fulfilled so efficiently.
Questions were taken from the floor regarding various issues including income streams, WRU funding, pitch and game promotion. The shareholders offered a vote of thanks to Peter Howells for his work as Director of Finance, guiding the club and company through increasingly difficult times.
A ballot had been held for positions on the board of directors, with previous incumbents Peter Howells, Martyn Morgan, Steve Reardon and Perry Stephens re-elected.
There were no motions submitted for consideration.