Return to News
Adfer Cymru Ltd sponsors of Ponty v Llandovery
Wed 20th September
Pontypridd RFC were once again delighted to welcome Adfer Cymru Ltd as the Club's match sponsor for our home league game against Llandovery last Saturday 16th September. Adfer Cymru Company Director Mr Ian Fisher was presented with one of Ponty's new away shirts by Club Chief Executive Steve Reardon just after the match.
Adfer Cymru Ltd is a restoration and renovation company contracting across South Wales. They are a company that is passionate about restoring Welsh heritage sites along with general construction projects. Adfer Cymru are also a Welsh speaking company and are passionate about providing a bilingual service to their clients. As a business they endeavour to put back into the communities they have worked in.
As well as sponsoring last Saturday's match, Adfer Cymru also sponsored our home match against Bridgend Ravens last season and Pontypridd RFC would like to offer our appreciation to both Adfer Cymru Ltd and Mr Ian Fisher for their continued support of the Club.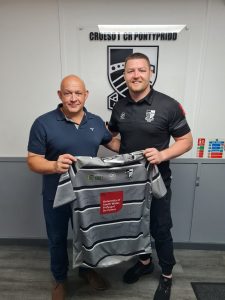 Pontypridd RFC still has match sponsorship spaces available this season and if anyone would like to know more about match sponsorship please email the club at club@ponty.net