Return to News
A Virus in the Valleys
Mon 23rd March
Club historian Dr Alun Granfield looks back at another time when an epidemic caused a rugby lockdown…
The coronavirus pandemic has caused chaos across the world and brought about the cancellation of almost all sporting events. Wales' game against Scotland was eventually called off by the WRU and all regional games have been postponed. More importantly, our four remaining Premiership games have become victims of the virus and all other club functions cancelled.
Older supporters of rugby in the Valleys will remember that we have been here before. In January 1962 a killer disease was on the loose in Wales. People were gripped by fear and week by week the death toll mounted. A visitor from Pakistan, where a smallpox epidemic was raging, brought the deadly virus to Cardiff. He quickly became ill and a Cardiff GP suspected smallpox.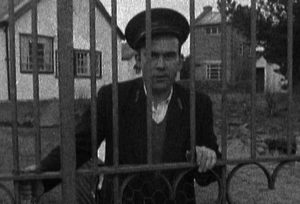 The patient was sent to the top of the mountain above the Rhondda, to the Penrhys isolation hospital. The photograph above shows the caretaker peering out from behind the gates of the long-demolished hospital. During the crisis twelve patients were isolated there as doctors fought to control the outbreak. Health Inspectors worked day and night to hunt down smallpox contacts and doctors struggled to vaccinate the entire population of the two Rhondda valleys.
The outbreak caused the cancellation of the international game against Ireland, due to be played in Dublin on 10th March. The Irish were unhappy about having a horde of people from the valleys descending on their fair city and the match was rearranged for 28th April but was again postponed. It was eventually played the following season, on 17th November, and ended in a three-all draw. Grahame Hodgson kicked a penalty for Wales and Mick English replied with a dropped goal for the Irish.
Pontypridd RFC still managed to play 41 games in the 1961-62 season, including 17 games played after the epidemic started. It was not a happy season for the club, however, as we lost 19 games and drew four of the matches played. The club secretary commented that "a factor in this season's performance was the smallpox epidemic, which hit the valleys and had an unsettling effect on the team." A masterly understatement that!
The coming months are going to be difficult for our club, as it will be for every rugby club in Wales. However, I am going to go along with Corporal Jones from Dad's Army, and cry "Don't panic!" rather than follow Private Fraser and his cry of "We're all doomed!". We have been through hard times before as a club and have survived. I just hope that all our supporters, players, and coaches come through the crisis unharmed.
Keep safe, all of you!
Alun Granfield