Return to News
A squad in the making
Wed 6th June
Pontypridd RFC will retain its core squad from the 2017-18 campaign, which finished a creditable third in the Premiership table, and with a number of exciting new additions soon to be announced.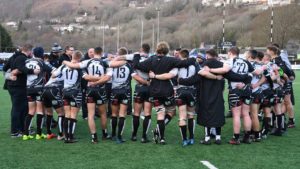 With centres Adam Thomas and Alex Knott and lock Lloyd Evans already signed up, the Pontypridd squad for the forthcoming season is currently listed as follows:
Backs:
Lloyd Rowlands; Geraint Walsh; Alex Webber; Dale Stuckey; Joseph Williams; Adam Thomas; Alex Knott; Gary Williams; Dafydd Lockyer; Jarrad Rees; Ceri Sweeney; Diggy Bird; Jordan Rees; Joel Raikes.
Forwards:
Huw Owen; Ian George; Joe Popple; Jon Elley; Luke Leddington; Huw Dowden; Joe Page; Josh Hawkins; Sean Moore; Shay Smallman; Chris Dicomidis; Lloyd Evans; Ross Morgan; Morgan Sieniawski; Rhys Shellard.
The concept of player development will see a core squad of thirty-two registered with the WRU but an extended squad utilised from week to week with a number of players featuring on permit from neighbouring clubs and from the University of South Wales.
Following a busy period focusing on player retention and recruitment, Pontypridd team manager Dan Godfrey commented: "We will have a strong squad of around forty players turning up for training from 16th June onwards.
"There will be real strength in depth and real competition for places in every position as we go into the new season, which we have struggled to achieve in past seasons."