Return to News
TRAVEL INFORMATION – RGC AWAY
Tue 30th October
Travel Information – RGC 19th January 2019
Pontypridd travel to Zip World Stadiwm (Formally Parc Eirias) for the Premiership clash with RGC on Saturday 19th January 2019, with the Supporters' Club organising coach transfer to the venue with overnight stay.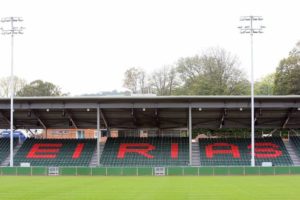 Supporters Club – payments for the trip to RGC are due in on the 16th November at the home game against Llandovery. Chris Kingsbury will be on hand to take payments for the trip.
The Supporters' Club coaches offer a convenient and cost effective way to follow the Ponty team on the road. To make a bookings / payments, please contact Phil Lycett on: 01443 662561.
Pontypridd Media