Return to News
Swansea RFC 5 : 32 Pontypridd RFC – Match Report
Sun 14th October
Swansea 5 v Pontypridd 32
Saturday 13th October 2018, 14:30, St. Helen's Swansea Principality Premiership
Surprisingly this game went ahead after Storm Callum, but supporters who followed Pontypridd to St. Helen's were not left disappointed after Pontypridd secured a well fought victory against the determined Swansea side.
It was the away team that notched up the first points early in the game with a push over try from Huw Dowden in 2nd minute.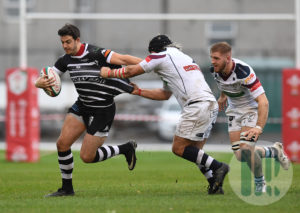 Swansea fought back against the Pontypridd defence with a break from their scrum allowing Josh Guy to cross the line in the 23rd minute, leveling the scores for the home team.
Swansea with their strong defence held their defencive line well into the first half until Dale Stuckey crossed over into the corner in the 43rd minute and subsequently converted by Ceri Sweeney.
This followed quickly with a further try deep into injury time in the 47th minute by Alex Webber who started his first game after returning from injury.
Half Time Score Swansea 5 : Pontypridd 17
Ponty broke down Swansea's defence again in the 50th minute when Dafydd Lockyear offloaded for Alex Knott to score under the posts which was followed by a Ceri Sweeney's conversion.
Despite a lot of possession by Swansea in the second half, Ponty held a strong defence throughout limiting the opportunity for Swansea to break through.
Lewis Williams increased the score for Ponty in the 80th minute with a penalty to take the score to Swansea 5 Pontypridd 25
Pontypridd's final try came deep into injury time in the 87th minute when a Huw Rees one handed offload found Morgan Sieniawski in support to cross the line then converted by Lewis Williams.
Final Score Swansea 5 : Pontypridd 32
Tries:- Huw Dowden (2), Dale Stuckey (40+3), Alex Webber (40+7), Alex Knott (50), Morgan Sieniawski (80+7)
Cons:- Ceri Sweeney (40+4, 51)
Pens:- Lewis K Williams (80)
Pontypridd team:
15 Dale Stuckey
14 Alex Webber
13 Alex Knott
12 Dafydd Lockyer (rep: Tom Riley 75)
11 Dafydd Thomas
10 Ceri Sweeney (rep: Lewis K Williams 78)
9 David Francis (rep: Huw Rees 75)
1 Ian George (rep: Huw Owen 59)
2 Huw Dowden (rep: Joe Page 72)
3 Gareth Smith (rep: Joe Popple 78)
4 Shay Smallman
5 Chris Dicomidis (rep: Steffan Jenkins 72)
6 Lloyd Evans (rep: Rhodri Jones 61)
7 Rhys Shellard
8 Morgan Sieniawski
Replacements:
16 Joe Page
17 Huw Owen
18 Joe Popple
19 Rhodri Jones
20 Steffan Jenkins
21 Huw Rees
22 Tom Riley
23 Lewis K Williams