Return to News
Rugby Skills Camp at Sardis – Friday 15th December
Tue 5th December
A Skills Camp organised by the Pontypridd & Valleys Rugby Initiative will be held at Sardis Road on Friday 15th December.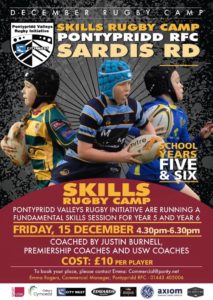 The session will run from 4:30pm to 6:30pm and will be mentored by Pontypridd RFC Head Coach Justin Burnell, assisted by USW and Premiership standard coaches.
Children in school years five and six can enlist in the Skills Camp, at a cost of £10 per child.
For more information, or to book a place, please contact Emma Rogers: 01443 405006 / commercial@ponty.net