Return to News
Premiership round up – 23/09/18
Sun 23rd September
With four games played only two teams maintain a 100% winning record in the Premiership, whilst three have yet to post a single win at the other end if the table.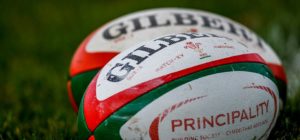 On the weekend of 22nd September the live TV game on Friday evening was between Pontypridd and RGC, the North Walians staging a strong second half comeback to win by 18pts to 32 and consigning Ponty to an unfamiliar ninth position in the rankings.
On Saturday reigning champions Merthyr slipped to a first defeat of the season, by 14pts to 22 at home to Aberavon, the teams having been level at 14pts all at the interval. Llandovery held on to pole position with a 26pts to 0 victory over a bottom placed and pointless Llanelli.
Ebbw Vale also maintained early season momentum but only just edging out visitors Bridgend by 17pts to 16 whilst Carmarthen Quins were 19pts to 13 victors over Cardiff. There were first wins of the campaign for Bedwas, by 20pts to 13 over Cross Keys, and Swansea by 25pts to 12 over Neath.
On Sunday afternoon Newport kept in touch with the leading pack by registering a 22pts to 17 win over Bedwas at Rodney Parade.
Principality Premiership – 23d September 2018
| | | | | | | |
| --- | --- | --- | --- | --- | --- | --- |
| Team | P | W | D | L | BP | Pts |
| Llandovery | 4 | 4 | 0 | 0 | 3 | 19 |
| Ebbw Vale | 4 | 4 | 0 | 0 | 2 | 17 |
| RGC | 4 | 3 | 0 | 1 | 4 | 16 |
| Newport | 4 | 3 | 0 | 1 | 3 | 15 |
| Merthyr | 4 | 3 | 0 | 1 | 2 | 14 |
| Aberavon | 4 | 3 | 0 | 1 | 2 | 14 |
| Carmarthen Quins | 4 | 3 | 0 | 1 | 1 | 13 |
| Bridgend | 4 | 2 | 0 | 2 | 4 | 12 |
| Pontypridd | 4 | 2 | 0 | 2 | 3 | 11 |
| Cross Keys | 4 | 2 | 0 | 2 | 3 | 11 |
| Cardiff | 4 | 1 | 0 | 3 | 3 | 7 |
| Swansea | 4 | 1 | 0 | 3 | 2 | 6 |
| Bargoed | 4 | 1 | 0 | 3 | 1 | 5 |
| Neath | 4 | 0 | 0 | 4 | 3 | 3 |
| Bedwas | 4 | 0 | 0 | 4 | 1 | 1 |
| Llanelli | 4 | 0 | 0 | 4 | 0 | 0 |