Return to News
Ponty win at the death at Bridgend
Sat 26th October
The home side broke the deadlock after just four minutes through a long range Owen Howe penalty, and continued to pose a greater threat, often from their opponents' mistakes. A turnover of possession allowed Bridgend to launch a snap counter, scrum half Chris Williams scoring a try which Howe converted. A Ponty line-out overthrow then yielded further momentum, with Bridgend pulling further ahead through another Howe penalty.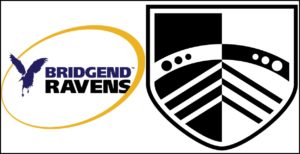 Ponty finally muscled their way into contention and made the most of a one man advantage following the sin-binning of home no8 Dafi Davies, Ben Jones converting a penalty and hooker Nathan Huish then burrowing over from close range, trimming the interval deficit to 13pts to 8.
The visitors applied concerted pressure after the restart, electing to kick for the corners to set up line-out drives, before spreading the ball wide for winger Alex Webber to cross in the corner. Having drawn level, Ponty soon fell behind again as Bridgend captain Nathan Edwards burst through to score but the hero then turning villain as he was yellow carded after replacement Diggy Bird had kicked a penalty for the visitors.
The contest was evenly poised, Owen Howe again on target to edge Bridgend further ahead and set up a tense final ten minutes. The Ravens kicked for territory, Ponty countering through a Morgan Sieniawski charge only to be held up. There was high drama right at the death as Ponty launched a wide attack, winger Dale Stuckey going over and Diggy Bird stealing the win, by 21pts to 23 with the final kick of the game.
Bridgend:
15.Owen Howe. 14.Dewi Cross. 13.Stuart Floyd-Ellis (Brad Roderick). 12.Nathan Edwards – cpt. 11.Andrew Evans. 10.Jamie Murphy. 9.Chris Williams.
1.Owen Jordan (Rhodri Apsee). 2.Iestyn Merriman (Garin Lloyd). 3.Ben Warren (Adam Court). 4.Jack Pope. 5.Ben Jones. 6.Travis Huntley. 7.Joseph Grabham. 8.Dafi Davies.
Tries: Williams (13); Edwards (54).
Con: Howe (14).
Pens: Howe (4, 20, 69).
Pontypridd:
15.Lloyd Rowlands. 14.Alex Webber. 13.Dafydd Carter (Corey Sheppard). 12.Dafydd Lockyer – cpt. 11.Dale Stuckey. 10.Ben Jones (Diggy Bird). 9.Joel Raikes (Tom Rowlands).
1.Huw Owen (Ben Stephens). 2.Nathan Huish (Rhydian Jenkins). 3.Curtis Hicks (Joe Popple). 4.Sean Moore. 5.Matt Davies (Lloyd Evans). 6.Kristian Parker. 7.Morgan Sieniawski. 8.Alun Lawrence.
Tries: Huish (35); Webber (52); Stuckey (80).
Con: Bird (80).
Pens: Jones (29); Bird (58).
Referee: John Darcey.
WRU Man of the Match: Alun Lawrence