Return to News
Ponty sign off with try-fest at Pandy Park
Sat 12th May
The season ended with a bang rather than a whimper for Pontypridd, who ran out as 28pts to 56 victors in an enthralling contest away to Cross Keys.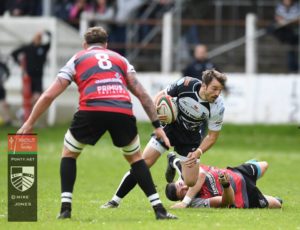 The spectators were left breathless, the players even more so, following a frenetic match that produced twelve tries with the Keys staging a dramatic second half comeback to narrow their deficit to just seven points but Ponty then closing strongly to seal the big win.
The try-fest in the sun at Pandy Park produced positive post match vibes amongst the Ponty squad.
Hat-trick try scorer Dale Stuckey drew breath before giving his take on the events of the previous eighty-three minutes.
"Cross Keys is always a difficult place to visit" said Stuckey "but we put in a lot of hard work and came good in the end. The pace of the game was fast, we were blowing at times but we regained our structure to calm things down and dug in to get the win.
"Maybe we were guilty of thinking the game was won at half time but we showed plenty of character, especially the youngsters in the squad, to pull through."
Dynamic flanker Morgan Sieniawski was nominated as Pontypridd man of the match, and enjoyed the experience.
"It was a good open game with some good rugby played by both sides" said Sieniawski, "the kind of game I can appreciate with plenty of pace and continuity. It must have been good for the supporters to watch as well.
"We were complacent in the second half but we regrouped and showed our character to come back strongly at the end. To finish the season with a bonus point win away from home will do us."
Casting a more objective eye on proceedings, Pontypridd backs coach Gareth Wyatt gave his reaction.
"That was a positive way to finish the season" said Wyatt. "We scored quality tries after playing some good phases of rugby.
"We did let the Keys back into the game but we finished strongly and made a big impact with our changes off the bench.
"The result was an important one for us to finish the campaign on a high and we have laid some solid foundations upon which we can build. We can now look forward to next season with confidence."