Return to News
Ponty edge tense home win over Newport
Sat 18th September
It was an exchange of early penalties by the opposing outside halves that got the scoreboard in motion, both long distance kicks, firstly by Matt O'Brien for Newport then Ben Burnell for Ponty. It was a cagey, sometimes feisty start to the game, with both captains given a talking to for their team's indiscretions.
Kicks at goal were once more traded as Burnell hit the target following a scrum penalty award but his score cancelled out within two minutes by O'Brien. Ponty were showing a desire to up the tempo of their game and enjoying a greater share of possession, but the level scoreline indicating a close fought first quarter. The home team then suffered a double whammy as flanker Kristian Parker was sin-binned with Matt O'Brien kicking the resultant penalty.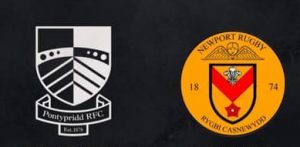 Ponty put together some phases of attack and probed into their opponents' twenty-two, eventually settling for another successful Burnell penalty. The young outside half then attempted a kick from within his own half, but just short of the target, with the teams going in all square at the interval 9pts apiece, following a forty minute period during which neither try line had been seriously threatened.
Both sides attempted to move up a gear or two as play resumed, taking quick tap penalties, with Newport going close but Ponty making the crucial breakthrough as Burnell fielded a high kick to instigate a counter, winger Dale Stuckey cutting through in the corner, his try converted from a wide angle by Burnell.
Ponty were foraging for possession in the loose, taking the game to their opponents, but play held up for a series of injuries, one to referee Gwyn Morris who was replaced by Kelvin Shorte. Another long distance penalty attempt from Burnell fell short, during a period when play was often scrappy and frenetic with neither side dominant.
The contest was one of fine margins, never reaching the heights as a spectacle but always intense with the home team just edging the close combat zones. A strong Newport scrum gave them a platform to advance but Ponty holding out in defence before extending their advantage through another Burnell penalty kick, from a distance and a wide angle.
The Black and Ambers struck back as replacement hooker Brodie Coghlan burrowed over following a line-out drive, the score converted by Will Reed to set up a tense climax. Ponty were pounding the gain-line in search of a crucial score, then back tracking to defend into injury time, but holding out for a hard fought victory by 19pts to 16.
Pontypridd:
15.Morgan Richards. 14.Iwan Pyrs Jones. 13.Morgan Sieniawski ©. 12.Bradley Roderick (Lloyd Rowlands). 11.Dale Stuckey. 10.Ben Burnell. 9.Joel Raikes (Dafydd Buckland).
1.Ben Stephens (Lloyd James). 2.Ieuan Morris (Rob Jones). 3.Morgan Bosanko (Tom Harper). 4.James Little (Jack Pope). 5.Chris Dicomidis. 6.Kristian Parker. 7.Cally James. 8.Joe Miles (Sion Parry).
Try: Stuckey (46)
Con: Burnell (47)
Pens: Burnell (6, 13, 32, 68)
Newport:
15.George Gladding (Ryan Gardner). 14.Mathew Powell. 13.Jack Brooks (Will Reed). 12.Jon Morris. 11.Elliot Frewen. 10.Matt O'Brien. 9.Luke Crane (Rhys Downes).
1.Jamie Jeune (Lewis Smout). 2.Matt Dwyer (Brodie Coghlan). 3.Garin Harris (Dan Suter). 4.Andrew Mann (Joe Bartlett). 5.Elliott Ferriman. 6.George Young. 7.Lennon Greggains (Josh Reid). 8.Josh Skinner.
Try: Coghlan (72)
Con: Reed (73)
Pens: O'Brien (3, 15, 26)
Referee: Gwyn Morris (Kelvin Shorte)
Golden Bob / WRU man of the match: Ben Burnell
Attendance: 1,280