It was on 14th April 1990 that an unknown ginger haired teenager ran out for his senior Pontypridd debut at the South Wales Police ground, and so began one of the greatest rugby careers in the history of world Rugby.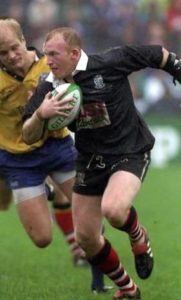 Over the next thirteen years, with a short break during which time he left to play for Cardiff, Neil Jenkins made 237 appearances for Ponty, amassing a staggering 3,185 points, and went on to represent Wales, for whom he became record points scorer and cap holder, the Barbarians, and the British Lions.
To put the Ginger Monster's achievements into a global perspective, Neil also became world record points scorer in test rugby. Not bad for a young kid who grew up kicking the ball between the posts of Cae Fardre near his Llantwit home, and never forgot the roots that made him what he was at the height of his illustrious career.
Neil Jenkins: Outside Half 237 appearances 1990-2003