"Baz" – a Pontypridd legend who joined from Tylorstown in preparation for the 1988-89 season and seemed never to want to leave!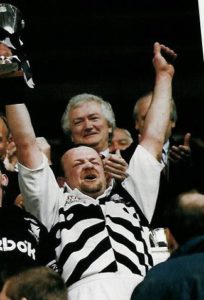 Our 1996 cup winning captain was never recognised internationally, despite being rated by many top props as the most awkward customer and most respected opponent.
From the Tylorstown terraces with the scaffold foundations of Stanleytown, Nigel Bezani characterised the player who did not say much, but had been there and done it (but not got the deserved jersey/cap).
He was well into his 30s when he left the Mid District club Tylorstown (where he had always been club captain) to join Pontypridd in 1988, making his debut against Newport at Rodney Parade.
Nigel has always confounded his critics, the self employed builder led Pontypridd to the Cup Finals of 1995 and 1996, the latter being a proud moment as his daughter Lucy was on the field before the match as team mascot. It was the Silver Jubilee Game, 25 years of Cup competition and for both Pontypridd and Neath, it was their first ever cup clash. In a supercharged final with a cauldron of noise at the national stadium, Pontypridd made history as a new name was added to the cup. Bezani clutched the trophy pointing to the Pontypridd badge on his shirt, as he faced the sea of emotion, he had led the team with heart, pride and resolution – and it would have taken a tyre wrench to take the trophy from him on that day.
Nigel left Pontypridd for Rumney and using his experience encouraged them to take the divisional title in 1997, bringing the Club to their highest ever placing in Division 2 of the National League.
Perhaps age is just a state of mind, as Baz never let his standards slip – an example for youngsters to follow, his attitude was professional, at a time when the game was amateur.
In 2003/04, Baz was Team Manager for the Celtic Warriors region, prior to their demise.
Nigel Bezani: Prop 187 appearances 1989-1997