Return to News
Coaches continue
Sat 1st August
When the playing of rugby eventually resumes, Pontypridd RFC will take an unchanged management team into the coming season.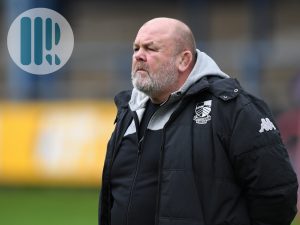 Justin Burnell (pictured above) will continue as Director of Rugby, responsible for mentoring the club's senior squad in addition to liaising with the Youth and Mini & Junior sections. The theme of player development will be further enhanced by Burnell's involvement with the Valleys Initiative and with Pontypridd Schools.
Working under Burnell's supervision will be forwards coach Lee Davies, backs coach Paul Matthews, performance analyst Dean Parsons and conditioning coach Nathan Evans. The key role of Team Manager will continue to be undertaken by former Ponty back rower Dan Godfrey.
The entire management team is dedicated to the process of nurturing young talent that can be channelled through Pontypridd RFC – Lee Davies in his role with Coleg y Cymoedd, Paul Matthews with the club's Junior section and Nathan Evans with USW. Another vital link is that of player analysis, headed up by Dean Parsons who is a senior lecturer at USW.
Welcoming the continuity of his coaching set-up, Justin Burnell said: "These are uncertain times for everyone but the one constant is that we have a fully committed coaching team in place at Pontypridd RFC.
"All involved are ready and willing to go over and above what is required of them, to maintain the club's sustainability in producing young talent that we can call our own.
"A common theme that is entwined through the coaching team is that we all contribute to player development, to a structured pathway that involves the club Junior and Youth sections, Pontypridd Schools, Coleg y Cymoedd, USW and the Valleys Initiative, whilst working closely with the Cardiff Blues age grade and academy squads."
Coaching continuity, and a focus on player development, entails good news all round for Pontypridd RFC whilst awaiting a return to rugby normality.