Return to News
Bedwas v Pontypridd – match preview
Thu 26th October
After a short break when the British & Irish Cup took precedence, the Premiership East campaign resumes on Saturday 28th October with Pontypridd playing away against Bedwas. The match at the Bridge Field kicks off at 2:30pm.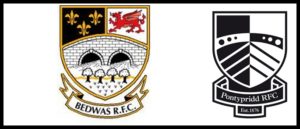 With seven games played Ponty lie second in the table with their next opponents Bedwas holding pole position. Even at this early stage of the campaign, the encounter between two form teams pushing for honours promises to be a tasty one.
Ponty will be out for revenge having lost at home to Bedwas by 27pts to 39 in the first game of the season.
Some members of the Ponty squad featured for the Blues Select XV in their BIC pool games, others have had valuable rest and recovery time from niggling injuries. Despite the recent break, there is a theme of continuity in team selection policy for the big top of the table clash.
The Pontypridd team named to face Bedwas is as follows:
15.Lloyd Rowlands. 14.Alex Webber. 13.Aled Summerhill. 12.Dafydd Lockyer – cpt. 11.Dale Stuckey. 10.Diggy Bird. 9.Wayne Evans.
1.Chris Phillips. 2.Joe Page. 3.Will Davies-King. 4.Sean Moore. 5.Chris Dicomidis. 6.Shane Lewis-Hughes. 7.Rhys Shellard. 8.Morgan Sieniawski.
Subs: 16.Joel Raikes. 17.Ceri Sweeney. 18.Geraint Walsh. 19.Huw Dowden. 20.Sion Edwards. 21.Shay Smallman. 22.Huw Owen. 23.Jon Elley.