Return to News
19th May – Ponty's end of season bonanza
Thu 17th May
It will be Pontypridd RFC's day in the sun on Saturday 19th May as the season comes to an end with a bonanza of events at Sardis Road.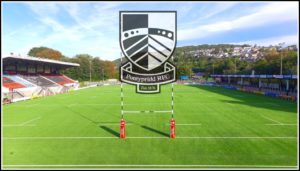 The Met Office weather forecast gives unbroken sunshine with temperatures reaching a balmy 18 degrees on the day.
First on the agenda is the Former Players' Association Annual Luncheon held in the Grandstand Lounge from 12:30pm. Guest speaker Phil Steele and top comedian Phil Doyle will entertain the audience, with a limited number of tickets still available priced at £25 per person.
Over in the Clubhouse Bar from 3pm a dinner will be held in honour of club captain Dafydd Lockyer, who will then have his testimonial match kicking off at 5pm with a 'Lockyer Select' squad of past club icons taking on the current Ponty squad with a number of exciting young prospects added in to the mix.
Tickets for the dinner are priced at £20 with entry to the match priced at £10. Guests attending the FPA Luncheon will be entitled to a discount match entrance fee of £5.
Celebrations will continue long into the night with live entertainment in the Clubhouse Bar.
Pontypridd Youth in the meantime contest the WRU Regional Play-Off Final against Bridgend Athletic at Rodney Parade on Saturday evening, the match kicking off at 7pm. Supporters' coaches will depart Sardis Road at 5pm, to return in the night hopefully with some silverware to join in the end of season festivities.
All in all it will be a big day out at Sardis on Saturday 19th May – one not to be missed.
Contact numbers for the various events are as follows:
FPA Luncheon – Wayne Evans – 07836697753
Lockyer Testimonial – Jake Thomas – 07826452120
Ponty Youth Cup Final – Chris Kingsbury – 07863160130