Return to News
WRU reports record turnover and re-investment
Wed 20th September
The Welsh Rugby Union Group has re-invested £36.6m into the national game at all levels, which equates to an 11% increase for the second successive year, according to its latest Annual Report, published today (Wednesday 20th September).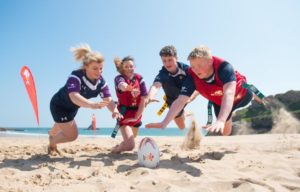 The Group continues with the strategy of re-investing back into rugby rather than retaining profits and investment has increased into rugby at both professional and community levels.
The investment in the community game has increased by 10% to £8.7m with total investment in Welsh rugby up by £3.5m from £33.1m – which was itself a record investment for the game in YE16.
An impressive set of results for YE17 also sees Group turnover increase to £74.9m from £73.3m previously and, despite increased re-investment, the Group has also delivered reductions on its net bank debt to £9.4m from £11.0m in the prior year.
Allocations to the Regions amount to £21.0m (YE16: £19.3m), which includes £1.0m into Regional academies to accelerate the development of Welsh players in the professional game and the investment on National Dual Contract players, which is up by £0.3m, to £2.4m.
A well-publicised unique investment also saw the Group assume control of the Dragons Region at a cost of c.£5.5m.
"We are delighted once again to have been able to increase our overall investment into rugby both at professional and community level," said WRU chief executive Martyn Phillips.
"Two years into the role I remain more convinced than ever that being more aligned throughout the game is our single biggest opportunity for success.
"We will continue to work hard with our Regions to increase attendances and engage with all clubs and supporters in their catchment communities. This is a fundamental part of creating a sustainable financial environment for rugby in Wales.
"To this end we have increased funding for the Regions and extended the repayment terms of the existing loans of £2.7m from three to eight years, until 2025.
"We recognise that the Welsh team and the Regional teams' fortunes are interdependent and that we want to support the Regions to give them every chance to be successful.
"In the women's and girls' game we have also increased both direct investment and added expertise in the form of three 'game-changers' who are making a hugely positive impact on participation in this growth area for rugby in Wales.
"To ensure the crucial elements of our rugby pathway are thriving, we continue to provide more funding for our community clubs, helping to upgrade facilities across the game and improve participation.
"We are concentrating additional investment into coaching at all levels, ensuring the community strategy is executed to safeguard amateur rugby, communities and the clubs all over Wales, the lifeblood of our game.
"Elsewhere we have moved a number of services in-house resulting in significant and welcome cost savings for the business, in particular with a new design studio."
Group Finance Director, Steve Phillips, said:
"Our financial performance has once again provided for a further increase to our level of re-investment into Welsh rugby.
"As a result of the re-financing in June 2015, the net assets of the Group significantly increased and the financial covenants of the new arrangement were improved. Given these changes, the Group has taken a strategic decision to seek to re-invest more into the game rather than retaining any profits to enhance net assets.
"Increased turnover, largely due to more international matches held at Principality Stadium, has been re-invested into the game together with savings in other areas in line with the Group's full re-investment strategy.  We are particularly pleased with our increased investment into the community game, which is now up to £8.7m.
"And also welcome the renewals of some 188 debenture holders, amounting to c.£1.7m, who elected to extend the redemption of their debentures from 2024 to 2050."
Elsewhere a series of significant commercial partnerships were renewed or achieved as new relationships throughout the year.
A four year partnership with Isuzu as the new shirt sponsor, on both the senior men's and senior women's shirts, was announced alongside a new four year partnership with Admiral as the new shirt sponsor on the 7s and age grade shirts.
Mercedes extended their partnership deal with the Group by four years and Principality Building Society signed a one year extension to their existing agreement with the Premiership.
"A significant moment during the year was the assumption of control of the Dragons," added Martyn Phillips.
"This was important work and both a significant and unplanned investment, but there were many good reasons for proceeding with the transaction.  We needed to act for the good of the professional game in Wales and felt a duty to ensure a professional club existed for the more than 70 clubs in Gwent.
"Our ability to drive revenue through attendances is critical to Welsh rugby; whether that be at Principality Stadium, regional stadia or in our community clubs.
"With that in mind, we have made good progress this year. We have reduced the prices of 48,000 tickets across the Australia and South Africa matches in the forthcoming Under Armour Series.
"In the community game we have seen notable progress in efforts to grow the core 15-a-side men's game through a focus on 2nd team rugby and growth achieved through alternative formats of the game.
"Following an extensive consultation process, a range of options for second team rugby are now available to clubs and players, all with the aim of providing meaningful, regular rugby at an appropriate level of competition.
"And our women's and girl's offering continues to go from strength to strength, with our girls' clusters initiative expanding into North Wales and fixtures significantly increased at U15 and Youth levels in particular.
"An enhanced partnership with Welsh youth organisation, the Urdd, also attracted over 11,000 primary and secondary school pupils to take part in a series of tag, beach and 7s competitions and festivals during the summer term.
"We have a clear purpose as to why we exist as an organisation. We have defined this as 'more people, more often, with more enjoyment and more success'.
"We want to encourage as many people as possible to engage with our game, whether they be supporters, players, coaches, referees, commercial partners, medics or volunteers.
"We are heading in the right direction and I want to thank the Executive Board and all our staff, the Board, our commercial partners and all our club officials, players, referees, coaches and volunteers for the hard work and dedication have all shown during a great year for Welsh rugby."