Return to News
WRU announce new format for the Welsh Cup
Tue 19th July
The Welsh Rugby Union have announced a new format for the Welsh Cup in 2022/23. The 12 clubs in the Indigo Group Premiership will be split into four pools with the pool winners then qualifying for the semi-finals. They will once again play for the WRU Challenge Cup, which will be back up for grabs for the 49th time 50 years on from when Neath became the first winners back in 1972.
Pontypridd have been drawn in Group B of the Premiership Cup (according to the WRU graphic) along with Bridgend Ravens and Aberavon. We play our first match in the competition at home against Bridgend on Saturday 17th September before travelling to play Aberavon at the Talbot Athletic Ground on Saturday 3rd December 2022.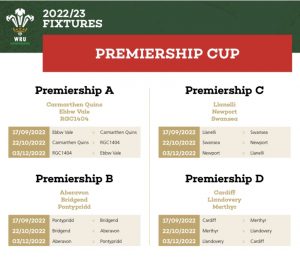 WRU STATEMENT –
Following on from the highly successful 'Road to Principality' event last season, where there were stand alone finals for the Premiership and Championship clubs, as well as the normal Plate, Bowl and Shield competitions, WRU's Competitions Committee has re-vamped the structure to create seven finals instead of five following a comprehensive Competition Review.
"We undertook a thorough review of our competitions at the end of last season and were greatly encouraged by the reaction of the clubs to the new cup format. We therefore decided to expand the offering to give more teams the chance of reaching a showpiece final," said WRU Competition Committee chairman, Colin Wilks.
Initially, the clubs will compete in groups before going into a knock-out phase to determine who goes to the Welsh capital at the end of the season. Only the group winners will make it through to the knock-out phase.
All groups will kick-off on 17 September and the finals will be played at Principality Stadium in dates to be agreed in April, 2023.
"As we emerged from COVID restrictions last season the nine days of finals on the 'Road to Principality 2022' proved an outstanding success. The engagement with fans was incredible, not just at Principality Stadium, but via social media and on our live streams of every game," said Geraint John, the WRU's Community Rugby director.
"Our challenge moving forward was to respond to the desire of the community game to get the chance to play at the home of Welsh rugby. That's why we decided to revise out National Cup competitions and devised the new framework.
"The club cup finals will be inter-woven with the Women's, Youth, Schools and Mixed Ability matches that proved so popular last season to create some real showpiece events at Principality Stadium that will celebrate everything that is good about our national game."
WRU NATIONAL CUP COMPETITIONS 2022-2023
Premiership Cup
Group A: Carmarthen Quins, Ebbw Vale, RGC1404
Group B: Llanelli, Newport, Swansea
Group C: Aberavon, Bridgend, Pontypridd
Group D: Cardiff, Llandovery, Merthyr