Return to News
Travel to Swansea / Teithio i Abertawe
Mon 9th December
Pontypridd travel to face Swansea at St Helens on Saturday 14th December, with the Supporters' Club organising coach transport to the venue.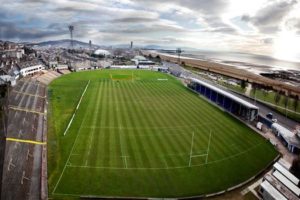 Coaches will depart Sardis Road at 12:45pm, with the game at Swansea kicking off at 2:30pm, and will return after the final whistle.
Car parking along the busy Swansea Bay seafront is limited – travelling with the Supporters' Club offers a convenient and cost effective means of following Ponty on the road.
To book a seat on the coach to Swansea please call Phil Lycett on: 01443 662561.
Mae Pontypridd yn teithio i wynebu Abertawe ar faes Sain Helen ar ddydd Sadwrn 14eg o Ragfyr, gyda'r Clwb Cefnogwyr yn darparu trafnidiaeth i'r fan a'r lle.
Bydd y bysiau'n gadael Heol Sardis am 12:45pm, gyda'r ornest yn erbyn Abertawe yn cychwyn am 2:30pm, ac yn dychwelyd wedi'r chwiban olaf.
Gan fod llefydd parcio ar hyd moryd Bae Abertawe yn gyfyng, mae teithio gyda'r Clwb Cefnogwyr yn gyfleus ac yn rhad, y dull gorau o ddilyn Ponty ar yr hewl.
I gadw sedd ar y bws i Abertawe, ffoniwch Phil Lycett ar: 01443 662561.
Wordsearch
travel : teithio
transport : trafnidiaeth
seafront : moryd
convenient : cyfleus