Return to News
The Quiet Man
Sat 22nd September
On the 10th of October 1995 an 18-year old Gareth Wyatt, still in the Youth XV, came on at Sardis Road as a replacement against Pontypool, and 23 years later he is still here as backs coach. However it has now been announced that he is to leave us to take on a full-time coaching role with the Welsh Women squad, and everybody at Sardis Road will wish him well for the future.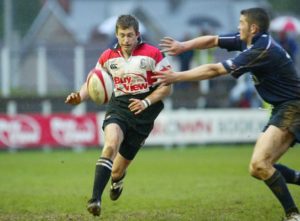 Gareth only made 4 appearances in his first season and played in 12 games in the following season, but by the 1997-98 season he was one of the first names on the team sheet. Able to play in just about every position behind the scrum, he starred for Pontypridd until the end of the old professional club structure in 2003. By then he had made 184 appearances for Pontypridd and scored 601 points (97 tries, 28 conversions, 18 penalties and 2 dropped goals). Some say that he could have scored a lot more tries if Kevin Morgan had passed him the ball from time to time!
Not the biggest man on the park – he once remarked to a friend of mine "imagine me tackling Jonah Lomu" – his explosive pace and elusive running meant that the opposition could rarely lay a hand on him. Once I was sitting with the great Barry John in the stand, and he compared Gareth to Gerald Davies – and there can be no better accolade than that.
Like Gerald, Gareth could conjure tries out of nowhere. I remember when we played a star-studded Newport team on 3rd January 2000. It was pouring down with rain and Sardis Road was a mud patch. Shane Howarth, one of Newport's foreign imports who later claimed to be a Welshman, afterwards complained that "you can't play rugby in conditions like that", but Gareth could play in any conditions – he scored a superb try, and Ponty went on to a comfortable victory by 27 -7.
In his time with Pontypridd Gareth represented Wales at U-19 and U-21 levels, played for Wales sevens in the commonwealth games, gained caps for the Wales A team and two full international caps. After the launch of regional rugby Gareth spent a season with the Celtic Warriors, and then five seasons with Newport Gwent Dragons. Then in the 2010-11 season he came back to us to play out his career at Sardis Road, adding another 109 games and 79 points to his tally, and he took on a coaching role in 2014 with as much success as he achieved as a player.
Eddie Jones, former team manager with Pontypridd in the professional era, knick-named Gareth 'Kwyatt', which well suited the self-effacing modesty of the man. However, we should always remember the words of Ian Duncan Smith, former leader of the Conservative Party and now only remembered for his famous line:- "do not underestimate the determination of a quiet man". Gareth's career in rugby as player and coach has demonstrated masses of that determination, and he will be sorely missed here at Sardis Road. Thanks for everything mate, and the best of luck with Wales Women.
Alun Granfield