Return to News
The Boxing Day tradition
Sat 26th December
When rugby started up again in 1945 in South Wales at the end of the Second World War it took a long time for some of the top clubs to give Ponty a game. Swansea and Newport didn't come on board until the 1970s and then gave us just one game a season. Our near neighbours, the illustrious Cardiff RFC, were amongst those top Welsh sides which were extremely reluctant to give us a game and we only played then eight times in the 27 years up to the 1972-73 season. And then came Boxing Day, 26th December 1972!
Our fixture secretary Graham Gittins had done a superb job over the years building our fixture list and had managed to secure a single game with Cardiff each season from 1968 onwards. The game in the 1972-73 season fell on Boxing Day, and I understand that this came about because their normal visitors on a Boxing Day, an English side, couldn't make it that year. The Ponty team that travelled down to Cardiff that day was:
Colin Bolderson; Haydn John, John Lewis, Phil Morgan, Brian Juliff; Alyn Paul, Dennis John (Capt.), Bill Davey, Arfon Jones, Wayne Evans, Bob Penberthy, Jeff Howells, Steve Parsons, David Morgan, John Sanders.
Unfortunately, we lost by 29-0, but a big crowd travelled down the Taff valley to watch the game, and the Cardiff treasurer realised that he was on to a winner! For the next 20 years the Cardiff-Pontypridd Boxing Day local derby was literally a fixture on the list. In the professional era it eventually became difficult to keep the fixture going, although it was revived for the last time in 2001.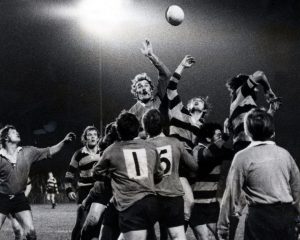 Victories in the Boxing Day games were few and far between. Of the 21 games between 1972 and 2001 we only managed five wins and one draw. However, one game stands out in my memory, played in 1988. Cardiff fielded a very strong side, with six current internationals taking the field:
Mike Rayer; Steve Ford, Steve Crandon, Mark Ring, Richard Jones; Malcolm Dacey, Ray Giles; Andy Williams, Alan Phillips, Steve Blackmore, Mike Parry, Mark Rowley, Justin Burnell, Richie Collins, Mark Edwards.
Paul John, Andy Moore, and Ian Greenslade came on as substitutes. The Ponty side was:
Jonathan Mason; Mark Jones, Ceri Jones, Chris Conway, Edwin Ford (brother of Steve); Andy Phillips, Keith Lee; Neil Eynon, Phil John, Paul Knight, Adrian Owen, Jim Scarlett, Nick Sanders, Mac Knowles, Dai Hopkins.
The stadium was full to the brim, with Ponty supporters out in force. The noise was tremendous, with the visiting voices out-shouting the perhaps more genteel Cardiff fans. Ponty struck early in the game. Dai Hopkins picked up from the base of the scrum, and Adrian Owen was on hand to drive over the line after only four minutes. Then Neil Eynon scored five minutes later, charging through from a line out like a human battering ram. Scarcely had the crowd caught its breath before Hopkins was off again, sending Keith Lee on an arching run which created an overlap try for Jon Mason. Andy Phillips added a touchline conversion, and Ponty were 14 points up after just eleven minutes. Cardiff were bewitched, bothered, and bewildered. A Christmas stuffing was on the menu!
Mark Rowley, the one bright light in an otherwise lacklustre Cardiff pack, limped off after 25 minutes. The home side now scored their only points, with a Rayer penalty and a Ring dropped goal. Soon, however, Ponty struck again, with Ceri Jones making a classic centre break deep into the opposing twenty-two and being on hand to pick up a return pass from Phillips to slice through under the posts. Phillips converted, and then added two penalties in the third quarter. Dacey and Ring now also left the field, with Ring suffering a horrible knee injury when tackled near his own line.
Mason got on the scorecard again in the final quarter, with a monstrous half-way penalty, and then Ponty added two more tries to complete the rout. First, Phillips did the spadework for a try by Mark Jones, and then Dai Hopkins got the try he deserved to cap off a sparkling all round performance. Ponty had won by a crushing 6pts to 41. Bob Cole writing in the Western Mail commented that the Welsh selectors, who had recently picked a training squad to travel to Spain in January, should have included some of the Ponty players. However, as ever, our boys were completely overlooked.
It was perhaps a sign of a changing centre of excellence in Welsh club rugby that Paul John soon left Cardiff and returned to his spiritual rugby home in Pontypridd. He was followed by Mark Rowley, Mark Edwards, Justin Burnell, and Richie Collins in the years to come. The Ponty captain on the day, local lad Ceri Jones, had also left Cardiff a year or so before. Golden days were to follow for Pontypridd in the 1990s and through to the end of Welsh professional club rugby in 2003.
Incidentally, Ponty's last game of the professional era was against Cardiff, on 30/05/2003. We sent a weakened side down to the Arms park, but it still included eight current or future internationals. Cardiff matched us with eight internationals in their side. Those were the days my friend – happy Boxing Day!
Alun Granfield