Return to News
Squad update
Mon 16th July
As the weeks count down to the commencement of Pontypridd RFC's pre-season fixture schedule, the club has an extended squad gathering for training sessions with many new faces to be seen.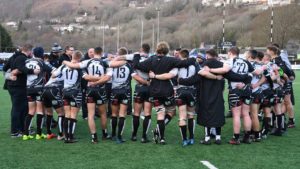 There have been comings and goings amongst the squad since the end of the previous season. Players departing were Geraint Walsh, Lewis Williams, Wayne Evans, Will Davies-King, Keelan Marney, Jake Thomas and Hemi Barnes. Coming in through the revolving door have been Alex Knott, Gabriel Davies, Will Baird, Dai Francis, Huw Rees, Connor Lewis, Tom Mably, Geraint Clarke, Will Haly, Lloyd Evans, Ross Barnes, Rhodri Jones and Sion Edwards.
The proposed move by former Wales Sevens captain Adam Thomas to Pontypridd has meanwhile fallen through due to a change in the player's career path. Thomas will now venture elsewhere to play his rugby.
The Pontypridd RFC squad taking shape in preparation for the new season is made up as follows:
Backs:
Lloyd Rowlands; Rhys Morgan; Joseph Williams; Alex Webber; Dale Stuckey; Alex Knott; Gabriel Davies; Gary Williams; Dafydd Lockyer; Jarrad Rees; Ceri Sweeney; Diggy Bird; Jordan Rees; Joel Raikes; Will Baird; Dai Francis; Huw Rees.
Forwards:
Huw Owen; Ian George; Connor Lewis; Jon Elley; Joe Popple; Tom Mably; Luke Leddington; Huw Dowden; Joe Page; Geraint Clarke; Will Haly; Josh Hawkins; Sean Moore; Shay Smallman; Chris Dicomidis; Lloyd Evans; Ross Barnes; Rhodri Jones;  Morgan Sieniawski; Ross Morgan; Sion Edwards; Rhys Shellard.
Players taken on trial this pre-season have been utility back Tom Hannah, wingers Adam Ashford and Marcus Jones, outside half Rhys May, scrum halves Macauley Griffiths and Harry Rumens, props Morgan Bascano, Zac Evans and Gareth Smith, and back rowers Steffan Jenkins, Dafydd Smith, Connor Dixon, Gwion Jones, Kyle Evans and Morgan Edwards.