Return to News
Scottish 'Super Six' to play Welsh clubs
Sat 4th August
Scotland's new semi-professional rugby union teams will face Welsh opposition as part of the forthcoming Super Six.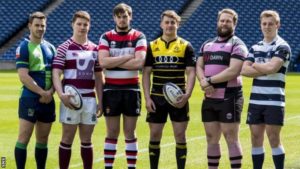 The competition's six Scottish franchises will play cross-border fixtures against the top six sides in Wales' Principality Premiership in season 2019 – 2020.
SRU chief executive Mark Dodson confirmed the move at the group's annual general meeting on Saturday 4th August.
Scottish Rugby also announced it has commissioned "an independent review into its governance".
Former director Keith Russell described the SRU as "toxic" and lacking in strategy after winning an unfair dismissal claim against the governing body in June.
Scottish Rugby's current governance structure was introduced in 2005, following the recommendation of a steering group chaired by Sherriff Bill Dunlop.
SRU president Colin Grassie said the new analysis was necessary, "given the fundamental changes to the sporting & commercial landscape in the last 13 years since the original Dunlop report".
The Super Six, designed to bridge the gap between Scotland's amateur and professional game, begins in season 2019-20.
It features Ayr, Boroughmuir, Heriot's, Melrose, Stirling County and Watsonians, whose franchise bids were accepted by Scottish Rugby.
Glasgow Hawks, one of six unsuccessful applicants, criticised the selection because "Scotland's largest city will not be represented".