Return to News
Sardis Road – no trespass
Sat 21st March
Pontypridd RFC is issuing a general public notice, that the Sardis Road stadium is strictly off-limits at all times unless an event or activity has been booked there, and is now in complete shut-down during the current coronavirus crisis.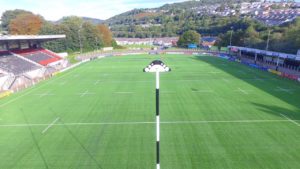 Recent cases of trespass and vandalism have caused significant problems, and with the early and prolonged closure of schools there is a danger that such illegal activity could escalate.
In line with WRU and government guidelines, Pontypridd RFC is now effectively closed for business and all activity on the 3G pitch suspended.
The stadium gates will be kept locked and patrols are being set up to ensure that no one enters the ground. The club is also liaising closely with the local police force to take action against any illegal trespass.
A rota of patrols around the Sardis Road stadium is being arranged – if anyone would like to volunteer for this, please contact club media officer Guto Davies – 07395290493 / e-mail:- media@ponty.net giving a contact number.