Return to News
Rugby Initiative – have wheels, will travel
Sun 18th March
The Pontypridd & Valleys Rugby Initiative have taken ownership of a brand new vehicle donated by main sponsor City West Commercials, which will be put to good use in promoting rugby development near and far.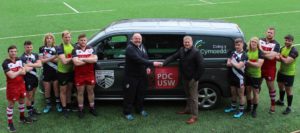 The Pontypridd & Valleys Rugby Initiative has Pontypridd Schools, Coleg y Cymoedd and the University of South Wales within its remit. Players from all three squads were on hand at Sardis Road, along with coach Justin Burnell, to receive the new vehicle from City West director Graeson Clarke.
Welcoming the donation, Ponty Rugby Commercial Manager Emma Rogers said: "Our partnership with City West Commercials is paying huge dividends in developing young rugby talent. This initiative is unique and is setting standards for others to follow, with huge benefits for our valleys communities. We thank Graeson Clarke and his team for their continued and valued support."
The new City West Commercials vehicle will help transport the Pontypridd & Valleys Rugby Initiative to attend the Rosslyn Park Schools Sevens tournament during the week commencing 19th March. This is the largest schools rugby tournament in the world, with over 7,000 boys and girls participating.