Return to News
Premiership slate wiped clean as two leagues become one
Wed 27th December
The final match of 2017 for Pontypridd will be the first in the fully extended sixteen club Premiership, after the east / west split has come to a close.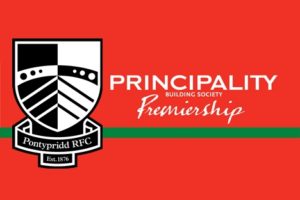 Ponty host Bedwas on Saturday 30th December launching a run of fifteen fixtures involving all sixteen Premiership clubs, who will from now on play each other once on a home or away basis.
The league table has been re-set with points allocated, from eight down to one, according to final positions in the east / west conferences. Merthyr and RGC finished top of the respective tables and carry over eight points, with second placed Pontypridd on seven points. The third placed teams have six points and so on to the bottom placed finishers east and west who have one point each. All other points from the first phase of the season, including bonus points, have been wiped clean.
From now on it is a clear cut battle for honours between the sixteen clubs in the Premiership, with no play-off matches to decide who will be champions. Pontypridd will enjoy home advantage against the top three west teams, RGC, Llandovery and Carmarthen Quins, but face another tough trip away to face east leaders Merthyr.
Final East / West Tables  # – points carried over
| | | | | | | | |
| --- | --- | --- | --- | --- | --- | --- | --- |
| | Prem East | | | | | |   |
| | Team | P | W | D | L | Pts | #Pts |
| 1. | Merthyr | 14 | 11 | 0 | 3 | 55 | 8 |
| 2. | Pontypridd | 14 | 11 | 0 | 3 | 53 | 7 |
| 3. | Bedwas | 14 | 9 | 0 | 5 | 43 | 6 |
| 4. | Cardiff | 14 | 7 | 0 | 7 | 34 | 5 |
| 5. | Newport | 14 | 6 | 0 | 8 | 32 | 4 |
| 6. | Cross Keys | 14 | 6 | 0 | 8 | 29 | 3 |
| 7. | Ebbw Vale | 14 | 4 | 0 | 10 | 18 | 2 |
| 8. | Bargoed | 14 | 2 | 0 | 12 | 14 | 1 |
| | Prem West | | | | | |   |
| | Team | P | W | D | L | Pts | #Pts |
| 1. | RGC 1404 | 14 | 11 | 1 | 2 | 52 | 8 |
| 2. | Llandovery | 14 | 10 | 0 | 4 | 47 | 7 |
| 3. | Carmarthen | 14 | 10 | 0 | 4 | 45 | 6 |
| 4. | Aberavon | 14 | 7 | 0 | 7 | 35 | 5 |
| 5. | Llanelli | 14 | 6 | 0 | 8 | 32 | 4 |
| 6. | Bridgend | 14 | 5 | 0 | 9 | 25 | 3 |
| 7. | Swansea | 14 | 3 | 1 | 10 | 23 | 2 |
| 8. | Neath | 14 | 3 | 0 | 11 | 16 | 1 |