Return to News
Premiership round up – 25/02/18
Sun 25th February
The Premiership programme of the weekend of 24th February was hit by the cold snap with three matches postponed. Despite having their game called off Merthyr held on to pole position in the table.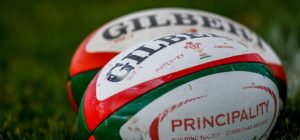 The freezing conditions across Gwent put paid to the Newport v Pontypridd and the Cross Keys v Llandovery matches on Saturday, and the Ebbw Vale v Merthyr match on Sunday.
On Saturday Carmarthen Quins cemented second position in the table, edging to within one point of Merthyr, courtesy of a 36pts to 10 home win over Bargoed, with winger Dale Ford crossing for four tries. RGC kept in touch with the leader board, posting an emphatic seven try, 50pts to 21 win over visitors Swansea.
There were seven tries scored also by Bedwas in their 41pts to 14 win over Bridgend, whilst Cardiff recorded a 31pts to 19 home win over bottom side Neath.
On Sunday Llanelli suffered their fourth consecutive defeat, by 13pts to 41 against Aberavon, who followed the example set the previous day by running in seven tries.
Principality Premiership – 25th February 2018
| | | | | | | | | | |
| --- | --- | --- | --- | --- | --- | --- | --- | --- | --- |
| POS | TEAM | PL | W | D | L | PF | PA | BP | PTS |
| 1 | Merthyr | 4 | 4 | 0 | 0 | 132 | 74 | 3 | 27 |
| 2 | Carmarthen Quins | 5 | 4 | 1 | 0 | 129 | 82 | 2 | 26 |
| 3 | RGC 1404 | 4 | 3 | 1 | 0 | 183 | 58 | 3 | 25 |
| 4 | Newport | 3 | 3 | 0 | 0 | 76 | 52 | 2 | 18 |
| 5 | Pontypridd | 4 | 2 | 0 | 2 | 114 | 83 | 2 | 17 |
| 6 | Cardiff | 5 | 2 | 0 | 3 | 115 | 112 | 4 | 17 |
| 7 | Ebbw Vale | 4 | 3 | 0 | 1 | 98 | 56 | 2 | 16 |
| 8 | Bedwas | 4 | 2 | 0 | 2 | 124 | 87 | 2 | 16 |
| 9 | Llandovery | 2 | 2 | 0 | 0 | 56 | 31 | 0 | 15 |
| 10 | Cross Keys | 3 | 2 | 0 | 1 | 81 | 81 | 2 | 13 |
| 11 | Swansea | 5 | 2 | 0 | 3 | 108 | 119 | 2 | 12 |
| 12 | Bargoed | 4 | 2 | 0 | 2 | 74 | 87 | 1 | 10 |
| 13 | Aberavon | 4 | 0 | 0 | 4 | 43 | 86 | 2 | 7 |
| 14 | Bridgend | 4 | 0 | 0 | 4 | 59 | 132 | 1 | 4 |
| 15 | Llanelli | 4 | 0 | 0 | 4 | 63 | 161 | 0 | 4 |
| 16 | Neath | 5 | 0 | 0 | 5 | 64 | 218 | 0 | 1 |