Return to News
Premiership round up – 17/03/18
Sat 17th March
Merthyr reclaimed pole position in the Premiership table following a close fought, high scoring home win over Llanelli on Saturday 17th March.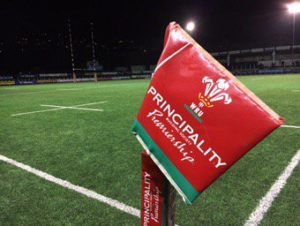 The Ironmen edged a 44pts to 43 victory over their west Wales opponents and leapfrogged Carmarthen Quins in the league rankings. The Quins went down to a 10pts to 34 home defeat against Cardiff, outscored by four tries to one.
Llandovery battled to a 17pts to 6 win over visitors Ebbw Vale at Church Bank whilst the Bargoed v RGC tie was postponed due to ground conditions.
On the Friday evening, previous form was overturned as lowly Bridgend edged a 16pts to 12 win over a recently resurgent Newport. For the second week running Pontypridd had to stage a frenetic second half comeback to salvage a result, this time by 30pts to 34 away to bottom club Neath.
Aberavon recorded a 25pts to 7 home win over Cross Keys whilst Swansea went down to a 15pts to 20 defeat against Bedwas at St Helens.
Principality Premiership – 17th March 2018
| | | | | | | | | | | | | | |
| --- | --- | --- | --- | --- | --- | --- | --- | --- | --- | --- | --- | --- | --- |
| POS | TEAM | PL | W | D | L | PF | PA | DIFF | TF | TA | TB | LB | PTS |
| 1 | Merthyr | 6 | 5 | 0 | 1 | 194 | 136 | 58 | 26 | 14 | 4 | 1 | 33 |
| 2 | Carmarthen Quins | 7 | 5 | 1 | 1 | 162 | 129 | 33 | 20 | 15 | 2 | 0 | 30 |
| 3 | RGC 1404 | 5 | 4 | 1 | 0 | 199 | 70 | 129 | 26 | 9 | 3 | 0 | 29 |
| 4 | Pontypridd | 6 | 4 | 0 | 2 | 186 | 150 | 36 | 28 | 18 | 4 | 0 | 27 |
| 5 | Cardiff | 7 | 4 | 0 | 3 | 202 | 147 | 55 | 25 | 18 | 4 | 2 | 27 |
| 6 | Bedwas | 6 | 4 | 0 | 2 | 157 | 108 | 49 | 23 | 14 | 2 | 0 | 24 |
| 7 | Newport | 5 | 4 | 0 | 1 | 107 | 86 | 21 | 11 | 9 | 2 | 1 | 23 |
| 8 | Ebbw Vale | 6 | 4 | 0 | 2 | 126 | 79 | 47 | 12 | 8 | 1 | 1 | 20 |
| 9 | Llandovery | 4 | 3 | 0 | 1 | 79 | 50 | 29 | 6 | 7 | 0 | 1 | 20 |
| 10 | Aberavon | 7 | 2 | 0 | 5 | 121 | 122 | -1 | 18 | 11 | 1 | 3 | 17 |
| 11 | Swansea | 7 | 2 | 0 | 5 | 148 | 192 | -44 | 16 | 26 | 0 | 3 | 13 |
| 12 | Cross Keys | 5 | 2 | 0 | 3 | 101 | 129 | -28 | 14 | 16 | 2 | 0 | 13 |
| 13 | Llanelli | 7 | 1 | 0 | 6 | 167 | 253 | -86 | 21 | 35 | 2 | 1 | 11 |
| 14 | Bargoed | 5 | 2 | 0 | 3 | 81 | 135 | -54 | 10 | 20 | 1 | 0 | 10 |
| 15 | Bridgend | 6 | 1 | 0 | 5 | 112 | 182 | -70 | 14 | 22 | 1 | 2 | 10 |
| 16 | Neath | 7 | 0 | 0 | 7 | 100 | 274 | -174 | 11 | 39 | 0 | 1 | 2 |