Return to News
Premiership round up – 10/02/18
Sat 10th February
The Premiership itinerary on the weekend of 10th February was fragmented both by the Six Nations tournament and the bad weather.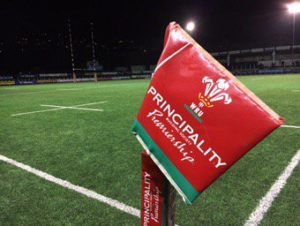 Three fixtures fell foul of waterlogged pitches on Saturday – those between Bargoed and Llandovery, Bedwas and Newport and Cross Keys and Bridgend.
On Friday evening Merthyr consolidated pole position in the table with a 20pts to 25 away win at Cardiff, but had to stave off a strong second half comeback from their hosts. Pontypridd in the meantime went down to defeat at Ebbw Vale by 19pts to 5, a result which ultimately saw them slipping from second to fourth in the rankings.
It was Carmarthen Quins and RGC that took advantage of Ponty's misfortune in their early kick-off Saturday games.
The Quins won away at Llanelli by 14pts to 30 whilst RGC ran in nine tries as they overpowered bottom placed Neath by 66pts to 3. Aberavon suffered a home defeat against near neighbours Swansea by 7pts to 19.
Principality Premiership – 10/02/18
| | | | | | | | |
| --- | --- | --- | --- | --- | --- | --- | --- |
| | Team | P | W | D | L | F-A | Pts |
| 1. | Merthyr | 3 | 3 | 0 | 0 | 102:53 | 22 |
| 2. | Carmarthen | 3 | 3 | 0 | 0 | 75:52 | 19 |
| 3. | RGC 1404 | 2 | 2 | 0 | 0 | 113:17 | 18 |
| 4. | Pontypridd | 3 | 2 | 0 | 1 | 93:53 | 17 |
| 5. | Newport | 2 | 2 | 0 | 0 | 47:32 | 13 |
| 6. | Ebbw Vale | 3 | 2 | 0 | 1 | 77:38 | 12 |
| 7. | Swansea | 3 | 2 | 0 | 1 | 64:39 | 11 |
| 8. | Llandovery | 1 | 1 | 0 | 0 | 30:7 | 11 |
| 9. | Cardiff | 3 | 1 | 0 | 2 | 60:67 | 10 |
| 10. | Cross Keys | 2 | 1 | 0 | 1 | 51:58 | 8 |
| 11. | Bargoed | 2 | 1 | 0 | 1 | 48:39 | 6 |
| 12. | Bedwas | 2 | 0 | 0 | 2 | 43:63 | 6 |
| 13. | Aberavon | 3 | 0 | 0 | 3 | 29:70 | 6 |
| 14. | Llanelli | 3 | 0 | 0 | 3 | 43:132 | 4 |
| 15. | Bridgend | 2 | 0 | 0 | 2 | 27:70 | 3 |
| 16. | Neath | 3 | 0 | 0 | 3 | 35:147 | 1 |