Return to News
Ponty's second half revival secures bonus point win at Bedwas
Sat 1st September
The new Premiership campaign got underway for Pontypridd on a humid late summer afternoon in Bedwas.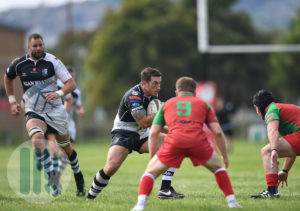 Whilst the game took some time to move up the gears, typical of a first encounter of the season, Ponty were well rewarded for dominating possession and territory for long periods with a bonus point victory by 23pts to 33.
It was in the second half that Pontypridd came to life, scoring all four tries in a frenetic fifteen minute period to overhaul an interval deficit of 16pts to 3.
Ponty captain Dafydd Lockyer was relieved that his team had secured a most valuable first win of the season.
"We were rusty at times after the summer break" said Lockyer "and it was typical of the way we sometimes perform to give our opponents a head-start. Bedwas were penalised a lot during the course of the game and disrupted our game plan but we stuck at it and cut them to shreds at times after the break.
"Our fitness levels and our self-belief showed through and we worked hard to get on top in the second half. A bonus point win away from home in the first game – we'll take that."
Centre Alex Knott, who moved out to the wing after the interval, put in a man of the match performance with two tries to his name.
"A good start to the season" was Knott's post-match appraisal. "It was a disappointing first half for us but we picked up after having a good talking to from the coaches at the break.
"I'm pleased with the way the game went for me, especially moving out to the wing which I'm not used to. We took time to get going as a team but built up momentum to get the all important win."