Return to News
Pontypridd & Valleys Initiative all set for the season
Thu 26th July
The Pontypridd & Valleys Rugby Initiative is all set for another season of success, well backed by local schools, colleges and businesses.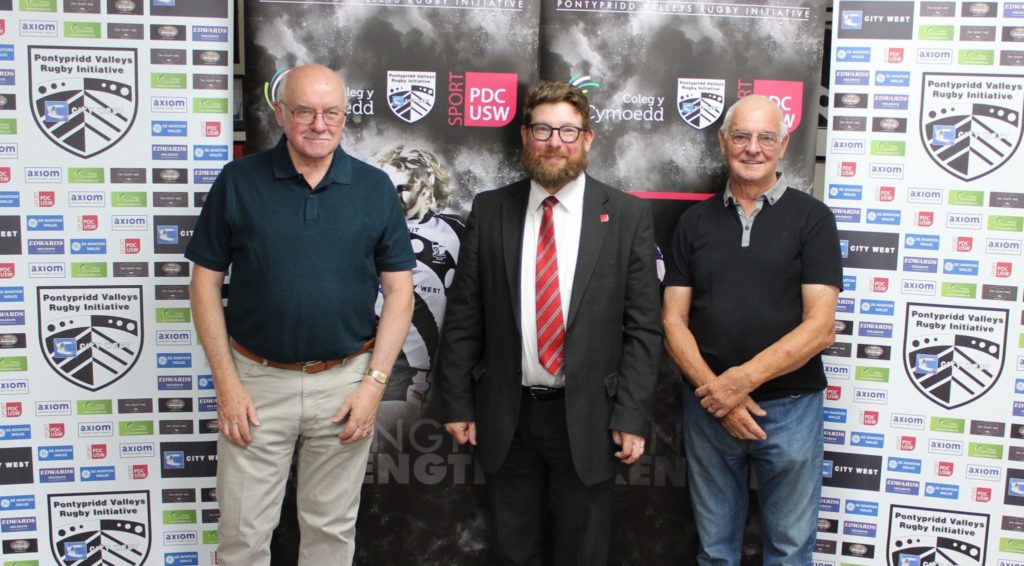 It was twelve months ago that the Initiative was launched with a clear aim to create stronger links with academies and clubs within the area, developing rugby opportunities for all associated with the game.
During its first year, hundreds of school children have benefitted from the scheme, as have students at Coleg y Cymoedd and the University of South Wales, with a clear pathway now in place for youngsters to develop to the highest levels.
What they say…
"A love for the game and increasing pupil participation across the school is key. Development of all rugby players' education across all year groups is essential in moving forward. I look forward to working closely with the Pontypridd & Valleys Initiative to be able to achieve these."
Mr J Williams – Director of Physical Education, Cardinal Newman School
"The pathway that has been created with Coleg y Cymoedd, the University of South Wales and Pontypridd RFC has grown from strength to strength in such as short amount of time. The transition from secondary schools and Coleg y Cymoedd students into the University of South Wales has increased over the last two years. The relationships between all of our partners members of staff has helped develop a smooth transition from further education to higher education facilitating the students a world class sport and academic service."
Ben Daniels – Head of Rugby USW
"As a father and a local community Rugby Coach I have watched Pontypridd Valleys Rugby Initiative grow from its infancy and over the last twelve months seen the impact it has had on the Pontypridd Schools Rugby programme. Sport within our community is so important when developing social confidence and interaction. The Initiative has already given numerous children and young people the opportunity to develop these skills."
Jason Edwards – Managing Director, Edwards Coaches
"Pontypridd Schools Rugby is the first step on the vitally important Pontypridd Valleys Rugby Initiative, taking young and aspiring rugby players in the area to the next level from the School and Club sides they represent. Perhaps the biggest testament to the work being undertaken is the return of the Dewar Shield to Sardis Road after a twenty-two year wait. At the end of their tenure with Pontypridd Schools, the natural progression for many of them will be to continue their development within Coleg y Cymoedd & University of South Wales ensuring that not only do they develop as rugby players but also academically."
Justin Newton PSRU Team Manager
" To work with a group of coaches and managers who are all aligned in their rugby outlook, and more importantly our development ethos is very unusual. We are a close group who share ideas and good practice to develop our own environments to ultimately create the best possible player for the next step in the chain. Whether that be a professional player at the Blues, a USW student or a Premiership player with Pontypridd RFC. It's giving players the ultimate pathway to develop holistically, as a player, an academic and a more rounded individual".
Lee Davies – Acting Director Of Rugby, Coleg Y Cymoedd
"Following on from the success of the USW Women's team last season and the ever growing women's game in Wales we are looking to develop a model that mirrors the pathway that we currently have for the men's game. Players starting in regional age grade sides, joining an academy programme at Coleg y Cymoedd, progressing their academic and rugby journey with us here at USW before moving on to represent Pontypridd, the Blues and hopefully Wales. By developing the relationships between the programmes with coaches and staff working across both programmes as well as in close partnership with Pontypridd and the Blues we are hoping to create a smooth transition for players from one programme to the next."
Tom Cole – USW Rugby Hub Officer