Return to News
Pontypridd v Llanelli – match preview
Thu 1st February
Pontypridd host Llanelli in a Premiership tie on Friday evening 2nd February, the match at Sardis Road kicking off at 7:30pm.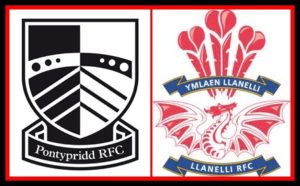 This will be the first encounter of the season for the two clubs, after the launch of the integrated league at the turn of the year following the previous east / west split.
Pontypridd lie third in the table with Llanelli trailing behind in twelfth position.
The host club have been without a game for the best part of a month since their early exit from the National Cup back on 6th January, losing away to Cross Keys. Llanelli progressed to the second round of the competition only to lose away to Llandovery by 38pts to 9 last weekend.
The latest injury casualty for Pontypridd is flanker Rhys Shellard with a cut eye incurred in training. Previously sidelined were full backs Lloyd Rowlands (shoulder) and Joseph Williams (fractured thumb), props Jon Elley (back strain) and Will Davies-King (ankle), and lock Shay Smallman and flanker Jake Thomas (both fractured hands).
The Pontypridd team selected to face Llanelli is as follows:
15.Dale Stuckey. 14.Lewis Williams. 13.Gary Williams. 12.Dafydd Lockyer – cpt. 11.Alex Webber. 10.Diggy Bird. 9.Joel Raikes.
1.Huw Owen. 2.Joe Page. 3.Keelan Marney. 4.Sean Moore. 5.Chris Dicomidis. 6.Morgan Sieniawski. 7.Ross Morgan. 8.Hemi Barnes.
Subs: 16.Wayne Evans. 17.Ceri Sweeney. 18.Geraint Walsh. 19.Huw Dowden. 20.Sion Edwards. 21.Josh Hawkins. 22.Ian George. 23.Joe Popple.