Return to News
Ponty Youth take Rumney scalp in push for league crown
Mon 9th April
Pontypridd Youth were back in Blues A League action on Saturday 7th April playing away against Rumney Youth in a crucial top of the table clash.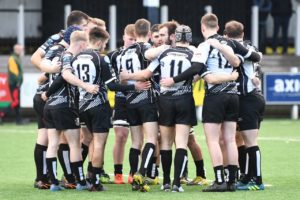 Following two previous encounters between the teams this season honours were very much shared, with Ponty winning the home league match before Christmas and Rumney winning a National Cup clash in February. The only guarantee for either side going into this latest meeting was of a hard physical contest with the team making the least number of mistakes taking the honours.
From the kick off Pontypridd played with real intent, determined to erase the memory of their previous visit to the capital when they came up short in the cup.  The early pressure forced a penalty award but Ponty's kicker Dafydd Lloyd pushing the ball just wide of the upright. This set the pattern for much of the first half with Ponty keeping Rumney penned back in their own half and forcing errors, allowing the visitors to build a six point lead from the boot of Dafydd Lloyd.
Rumney worked hard to get into good attacking positions but a combination of good defence and unforced errors frustrating the home side's efforts. It was in the dying minutes of the half that Rumney took their opportunity to score. A speculative kick from the home outside half and a misjudged bounce gave the outside centre an opportunity for a kick and chase to score under the posts, with the conversion added to take Rumney in at the break holding a lead of 7pts to 6.
Ponty started the second half much the same as the first, working hard to keep play in the home half and putting their opponents under pressure. Rumney defended their line well, preventing Ponty from scoring an early try before eventually taking play back towards halfway. The home team were looking to get their pacey wingers into play by working the ball wide but good defensive pressure by the Pontypridd midfield snuffing out their attacks. Aggression in the tackle forced a knock-on upon which Ponty centre Ioan Evans pounced to run fifty metres to the try line. The conversion went narrowly wide but Ponty now going into the final quarter with a narrow 7pts to 11 lead.
Rumney once more came back strongly but a combination of a determined Ponty defensive effort and the home side's indiscipline at the breakdown denying them any further points. It was Ponty who had the last word with a converted penalty going into the final ten minutes to extend their lead. An outstanding display of disciplined and aggressive defence by Pontypridd followed to close out the contest with a crucial 7pts to 14 victory.
Pontypridd Youth resume their Blues A League campaign with an away tie against Cardiff University on Wednesday evening 11th April, the match at Llanrumney Fields kicking off at 7:15pm.