Return to News
Ponty Youth edge league win over Aberdare
Mon 29th January
Pontypridd Youth were back in Blues A League action on Saturday 27th January, playing hosts to Aberdare Youth.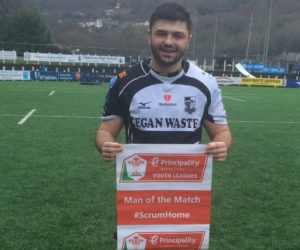 Ponty knew that they were in for a hard match with Aberdare seeking to avenge their home defeat earlier in the season. The visitors started the match playing with pace and directness which tested Ponty's defence to the full, with both the opposition centres running hard and making half breaks.
Whilst Ponty had struggled early on to implement their game plan and to clear their lines, once they found their rhythm it was the Aberdare defence that was tested, with the home team going through the phases and driving hard to the line.
Ponty were rewarded with a couple of penalties during this period of the game and chose to kick into the corners but were unable to get their driving maul going, eventually settling for a Dafydd Lloyd pot at goal to open the scoring with three points on the board.
The first half developed into an intriguing encounter with both teams trying but failing to create a clear try scoring opportunity. With the interval approaching Ponty won line out ball to drive from twenty-two metres out, sending prop Matthew Isles over for the firat try of the game the first try of the game, converted by Dafydd Lloyd to send his team in at the break ten points clear.
The second half started as the first had finished with both teams playing expansive rugby but just failing to make a clear break. Ponty worked hard to extend their lead but with Aberdare always looking menacing on the counter and breaking their duck through a well struck penalty
As the game progressed Aberdare threw everything into attack but Ponty then responding to take play deep into their opponents' half, driving another maul towards the line for replacement Cameron McMillan to claim a crucial try.
The last quarter of a hard fought encounter saw both teams create opportunities but their respective scramble defences preventing any further scores, with Pontypridd claiming victory by 15pts to 3. Home team man of the match was try scoring prop Matthew Isles (pictured above).