Return to News
Ponty Youth battle to home win over Merthyr
Mon 8th January
After a run of friendly games over the Christmas period, Pontypridd Youth were back in Blues A League action playing hosts to Merthyr Youth on Saturday 6th January.
Straight from the kick off Ponty showed their intent to take the game to their opponents and to play with tempo. The ploy worked as Merthyr were confined to their own half and put under constant pressure with the score board ticking over as Ponty extended their lead to 18 points without reply, scoring three early tries and a penalty but spurning at least three more scoring opportunities.
It was only in the closing stages of the first half that Merthyr were able to get any real momentum and putting points on the board through a penalty. Kicking from deep in their own half the visitors then won a line-out on the Ponty twenty-two and drove to the home line, scoring a close range  try which was converted to register an interval score-line of 18pts to 7.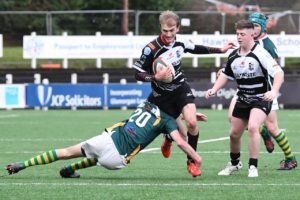 The second period was a much more evenly balanced affair with both teams having extended periods of possession and territory. It was Ponty who extended their lead by a further nine points but Merthyr staying in contention and closing the gap for the final score of 27pts to 19. Having recorded a valuable win to stay in contention at the top of the Blues A League, Pontypridd could rue their failure to put away the numerous opportunities created  which would have assured them of a bonus point that could yet prove crucial at the end of the season.