Return to News
Ponty under 9s shine at Sardis
Mon 27th January
Proud participants in the match-day events surrounding the Pontypridd v Bridgend Premiership match on Saturday 25th January were the Ponty under 9s squad.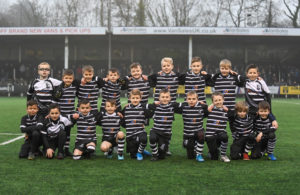 The kids formed a guard of honour to greet the senior players out on to the pitch and took part in a skills session to entertain the crowd during the half time interval.
Pontypridd backs coach Paul Matthews, who is also involved with the under 9s, was delighted to see the youngsters getting involved.
"The kids train and play at Sardis" said Matthews "but it was an added experience for them to be involved like this on a senior match-day.
"The squad have stayed together since they were formed at the age of five or six and they are enjoying their rugby and proud to represent the club."
Pontypridd RFC would like to thank all the coaches and parents of the under 9s for their support and for making the squad's participation on Saturday such a success.