Return to News
Ponty take heart from Aberavon defeat
Sat 15th September
Pontypridd suffered their first defeat of the new season, at least claiming a losing bonus point in going down by 25pts to 19 away to Aberavon.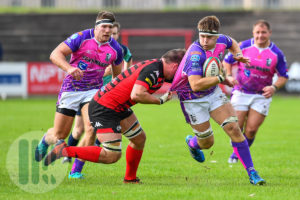 The game was hard fought with both teams showing full commitment in both attack and defence, and often played at a frenetic pace.
Although disappointed with the final score-line, the reaction from the Ponty camp indicated that positives could be taken from the performance.
"We have now taken eleven points from our first three games, two of those away from home" commented team manager Dan Godfrey. "With everyone fighting for survival in this league there will be no easy games, and today's was a prime example.
"The result went against us, as did many of the decisions, and we suffered disruptive injuries although our replacements were more than capable of carrying on the fight. It was not to be on the day and we will look to regroup quickly with a big home game against RGC coming up."
Man of the match and try scorer Morgan Sieniawski could take heart from the disappointment  of defeat.
"It was a very physical contest" said Sieniawski "but we were competitive, getting into good positions but unable to finish off with a score. We were our own worst enemies in that sense.
"We conceded far too many penalties but worked hard, especially in the tackle area. If we can replicate the positives from that performance for a full eighty minutes then we can be up there challenging for honours at the end of the season.
"We have a televised game against RGC coming up on Friday and the boys will be going all out to front up for that."