Return to News
Ponty Schools claim derby win over Rhondda
Sat 11th November
Pontypridd Schools claimed a close fought victory over Rhondda Schools in the Dewar Shield derby at Sardis Road on Friday evening 10th November.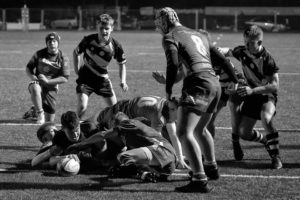 Both teams came into the match with a 100% record in the tournament this season, and Rhondda as reigning champions. The match was always going to be an epic battle for supremacy and so it turned out, played out in front of a large crowd at Sardis Road.
Having trailed at the interval by 3pts to 5, Pontypridd Schools claimed a last gasp try (pictured above) to secure victory by 8pts to 5. All the Ponty points, a penalty and try, were scored by Iwan Jenkins, with Rhys Barratt nominated as man of the match.
Pontypridd are now joint top of the Dewar Shield table along with Cardiff Schools, on 12 points apiece.
Two tough away fixtures will see Ponty next play Vale of Glamorgan on 25th November then a potential top of the table showdown against Cardiff on 9th December.