Return to News
Ponty return a 'no-brainer' for Rowlands
Wed 11th September
On Monday 8th March 2019 Lloyd Rowlands wrote a letter to Pontypridd supporters informing them of his decision to retire from rugby and that his 'dream' of playing for the Valley Commandos had come true.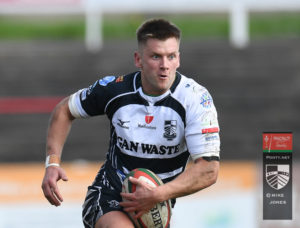 The Senghennydd product had been hampered with concussion issues for eight months prior to his retirement as his career came to abrupt ending – or so we thought.
A nightmare year off the field soon became a distant memory last Friday night as the full-back completed a full 80-minutes at the Arms Park in a narrow 24-23 defeat to Cardiff.
For the 28-year old though, the result paled into insignificance, as Rowlands himself explained: "The physical state I was in last year when I thought I was never going to play rugby ever again to then be involved in such a big game like that was pretty special.
"Rugby is my life and I can't believe that I am playing again, especially with my first game in over a year being on television. It's completely crazy!"
Having returned to the Pontypridd squad and made it through the Cardiff game unscathed, Rowlands was able to reflect on the problems he endured in a different light as he said, "The first couple of months away from the playing field were pretty dark I have to admit.
"Of course, it was a massive choice to make (to retire), but my mental state at the time was so bad that I had no other choice.
"I was going to training with massive headaches and I was finding it a real struggle to remember anything, so I had to tell myself that it was time to retire, especially when it was affecting my home life.
"One of the hardest parts about retiring was that I couldn't bring myself to watch any rugby whatsoever. I was completely done with the game".
Having given up the game that had given him so much, Rowlands decided to concentrate on life after rugby. That was until a chance meeting with Director of Rugby Justin Burnell gave him hope of a comeback.
"After a few months away from the playing field, I honestly felt like a new man. During the summer I was minding my own business and strangely enough bumped into Justin Burnell after a meal in Nando's. He asked me whether I was going to come back to rugby or not.
"Although I was missing rugby, I found myself completely comfortable being retired although I also wanted to stay fit which resulted in me training without contact with Ponty throughout the summer.
"Having trained with the team, the 'rugby bug' was certainly back and I was asked to take part in the 7's tournament at Sardis Road".
With Rowlands' family supporting his decision to retire a few months earlier, he soon found himself in the position of seeking advice from his loved ones for a potential return to the 15-a-side form of the game.
Rowlands added, "The first person I told about my potential return to the playing field was my bamp, who sadly passed away last week. He was such a big influence on me and my rugby career and for him to tell me that he was proud of my decision to play rugby again meant so much to me.
"My concussions and time away from rugby has made me appreciate life and family a hell of a lot more. I honestly think that head injuries in the sport need to be addressed though because I find that it isn't being talked about enough".
Rowlands is now looking forward to a full season back with the team he supported as a boy with the aim of 'playing week in, week out' and helping Ponty in their quest for honours.
Nathan Parker – Pontypridd RFC media team