Return to News
Ponty legend Neil Jenkins returns as club president
Thu 21st November
Club icon and world renown personality Neil Jenkins has been nominated as Honourary President of Pontypridd RFC.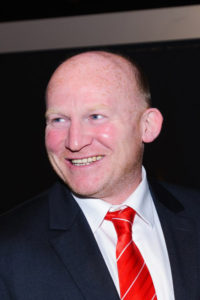 Most recently a member of the Wales coaching team, Neil Jenkins achieved legendary status as an outside half during his playing days, having progressed from youth to senior level with his local club Pontypridd and going on to be a record breaker with Wales and the British Lions.
The unassuming hero totalled 237 appearances for Ponty in two stints between 1990 and 2003, amassing an incredible 3,185 points. He won 87 senior caps for Wales and 4 for the British Lions, for whom he was instrumental in the 1997 test series win against South Africa.
Jenkins is the record points scorer for Wales with a total of 1,049, and at one time held the similar world record. He was the first ever player to break the 1,000 international points barrier, and achieved a record 44 consecutive successful kicks at goal in his time with the Celtic Warriors.
The role of Honourary President with Pontypridd RFC will now be taken up by Neil Jenkins, who will act as an ambassador and figurehead of the club in all aspects of its activities. The previous incumbent was highly respected administrator Sam Simon, a WRU and International Rugby Board member who passed away in May of this year. Jenkins will bring a different profile to the role as an iconic former player.
Welcoming Neil Jenkins back to his club of origin, Ponty Rugby Chief Executive Officer Steve Reardon said: "During his playing career, Neil Jenkins MBE became one of the most recognisable figures in world rugby and remains one of the most influential goal kickers in the history of Rugby Football.
"Those of us fortunate enough to have seen him play week in, week out, know that there was so much more to his game and his playing record for Pontypridd, Wales and the British Isles speaks for itself.
"I am delighted that Neil has accepted the invitation to bring his vast experience and service to sport home to the role of President of Pontypridd RFC."