Return to News
Ponty claim win over Clifton in thrilling encounter
Sat 17th August
Ponty took a third minute lead as outside half Ben Jones intercepted to cruise in for a try which he also converted. Having soaked up a good deal of early pressure the English visitors then struck back on the counter, winger Bentley Halpin touching down on the corner flag. Clifton enjoyed periods of possession but were undone by another interception, this time winger Aaron Grabham pouncing for a try which Ben Jones converted.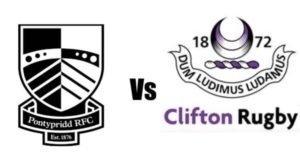 The game was competitive as it progressed, Clifton pressing at times and Ponty creating opportunities but often undone by costly handling errors. The home side finally generated a dynamic wide attack for winger Ryan Davies to cross with twenty-eight minutes gone. A turnover and kick and chase gave Ponty momentum upfield before Clifton edged back into contention with a period of late pressure, the home team taking a 19pts to 5 lead into the interval.
Ponty struck early after the restart, flanker Sion Parry claiming the touchdown from a line-out drive with Ben Jones' conversion rebounding back off the post. That score was replicated by the visitors who drove on from their own line-out take for Sam Taylor to ground and fly-half Bradley Barnes to convert.
The home lead was however extended following a sweeping attack as centre Corey Sheppard claimed a try, converted by replacement Lewis Williams. The game maintained a good tempo despite numerous changes being made by both sides, Ponty grafting hard in defence and their ranks depleted as Dafydd Carter was sent to the sin-bin. The home side regrouped to finish strongly, replacement winger Lewis Allwood crossing for two late opportunist tries, both converted by Williams to seal a hard fought but emphatic victory by 45pts to 12.
Pontypridd:
15.Rhys Morgan (Lewis Allwood). 14.Aaron Grabham (Dafydd Carter). 13.Alex Knott (Ieuan Smith). 12.Corey Sheppard (Diggy Bird). 11.Ryan Davies (Dale Stuckey). 10.Ben Jones (Lewis Williams). 9.Sam Middlemiss.
1.Huw Owen (Curtis Reynolds). 2.Ben Parry (Rhydian Jenkins). 3.Curtis Hicks (Luke Leddington / Nathan Huish). 4.James Murphy. 5.Sean Moore (Steffan Jones). 6.Rhys Shellard (Garrick Legge). 7.Sion Parry (Kyle Evans). 8.Kristian Parker (Garrick Legge temp).