Return to News
Ponty claim crucial home win over RGC
Sat 11th January
The game was fast and loose from the off, Ponty going close to scoring following a kick and rush attack. The home side were dominating possession and territory, winger Dale Stuckey again going close but the first quarter remaining scoreless. Persistence paid for Ponty from a quick tap penalty instigating a wide attack for full back Corey Sheppard to cross, his try well converted by Diggy Bird. There was more of the same to come as flanker Morgan Sieniawski set off on a charge from deep, winger Alex Webber maintaining momentum and centre Mason Grady up in support to score a try which Bird again converted.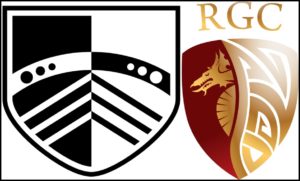 Against the run of play RGC made the most of a snap attack, centre Tom Hughes going over wide out with Billy McBryde adding the conversion. A late Diggy Bird following set-piece pressure extended Ponty's advantage at the break to 17pts to 7.
The second half was a carbon copy of the first, Ponty dominant with Diggy Bird marshalling a back line in which wingers Webber and Stuckey were a threat, but unable to turn pressure into points in what was often a scrappy encounter. The nerves were settled as Bird drilled over a penalty, but RGC keeping in touch following a break by flanker Tim Grey, winger Afon Bagshaw going over in the corner.
Ponty responded with a series of drives and mauls, the visitors' tendency to infringe coming at a cost as Grey was shown yellow. The home pack made the most of their numerical advantage with a series of attacking scrums, spurning kicks at goal, but rewarded as centre Dafydd Lockyer charged through from close range, the conversion by replacement Lloyd Wilkins sealing a deserved Ponty victory by 27pts to 12.
Pontypridd:
15.Corey Sheppard (Lloyd Rowlands). 14.Alex Webber. 13.Mason Grady. 12.Dafydd Lockyer – cpt. 11.Dale Stuckey. 10.Diggy Bird (Lloyd Wilkins). 9.Joel Raikes (Tom Rowlands).
1.Curtis Reynolds (Ben Stephens). 2.Nathan Huish (Rob Jones). 3.Morgan Bosanko (Curtis Hicks). 4.Sean Moore. 5.Chris Dicomidis (Kyle Evans). 6.Morgan Sieniawski (Lloyd Evans). 7.Sion Parry. 8.Kristian Parker.
Tries: Sheppard (24); Grady (32); Lockyer (78)
Cons: Bird (25, 32); Wilkins (78)
Pens: Bird (39, 66)
RGC:
15.Dion Jones (Harri Evans / Sam Earl-Jones). 14.Afon Bagshaw. 13.Tom Hughes – cpt. 12.Danny Cross. 11.Rhys Tudor. 10.Billy McBryde. 9.Oscar Lennon (Nick Butterworth).
1.Joe Simpson (Jessie Williams). 2.Rhodri King (George Roberts). 3.Jordan Scott (Rhys Roberts). 4.Bryn Jones. 5.Robin Williams. 6.Sam Williams (Will Bryan). 7.Tim Grey. 8.Jordan Jones.
Tries: Hughes (36); Bagshaw (70)
Con: McBryde (37)
Golden Bob Man of the Match: Morgan Sieniawski
WRU Man of the Match: Alex Webber
Referee: Stephen Allsop