Return to News
Mini & Junior Focus – Pontypridd RFC U8's
Mon 22nd November
The Pontypridd RFC U8's are a brilliantly run age group with a high emphasis on creating a fun and sociable environment for the children, parents and coaches. At the helm is their Head Coach Richard Martin. Richard is is supported by an army of volunteers including coaches Steve May, Darren Fudge, Tom Nicholls, Chris O'Callaghan and Mark Thomas.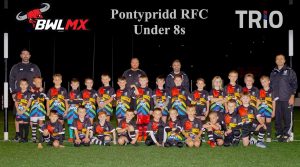 Speaking about Ponty U8's, Head Coach Richard said: "I have been a lifelong fan of Ponty. My father took me to my first game when I was 3 or 4 years old and I have been a supporter ever since. I feel tremendously proud to be part of such a fantastic set up, and I am truly blessed with the support I receive from the rest of the coaching team – Steve, Tom, Darren, Chris and Mark – they all play a huge part in the team's development. I feel we have a special group of players on our hands who are eager to learn. The goal for us is to ensure that we keep the group together through the age grades and hopefully we'll see one or two progress into the senior set up and beyond. Our relationship with the Senior set up is going from strength to strength and is playing a huge part in creating a community feel within the club. Our players are the senior players and fans of tomorrow and that relationship between the Seniors and Mini and Juniors is key to ensuring Ponty remains one of the top sides in Welsh Rugby and THE Premier club in the Valleys."
Ponty U8's are sponsored by –
Bwl Mx
Trio Building Contractors Ltd
– They would like to thank both of these companies for their continued support of the team.
If you know any children who would like to join the team, please send us a message and we can forward it to the relevant person. Please e-mail – media@ponty.net